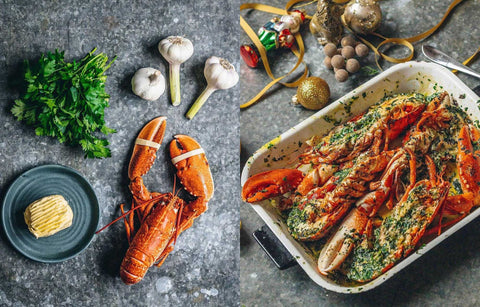 Lobster Garlic Butter by Gizzi Erskine
09 Dec 2020 by Wright Brothers Team
A simple garlic butter recipe created to enhance the flavours of our tender, juicy lobsters. A perfect meal for when you're dining for two.
Time

55

minutes

Serves

2

Difficulty

Easy
Ingredients
1 bulb of wet garlic
1 regular garlic clover, peeled, finely grated
200g unsalted butter, at room temperature
Large bunch of flat leaf parsley
Good squeeze of lemon juice
Sea salt flakes
Freshly ground black pepper
Instructions
Lobsters are best treated with a light touch. Enjoy their tender, juicy meat by enhancing their flavours with this lovely garlic butter recipe by Gizzi Erskine. This recipe works brilliantly on lots of other shellfish too!
Preheat the oven to 180°C.
Split the wet garlic bulb in half, drizzle with olive oil. Roast in the oven for 35-40 minutes, until the cloves are soft.
Remove from the oven and leave to cool.
In a large pan of boiling water, blanche the parsley for 30 seconds. Transfer to a bowl of iced water to halt cooking. Remove from the water. Squeeze tightly to remove any liquid. Roughly chop.
Add the roasted garlic, regular garlic, butter, squeeze of lemon juice, parsley, plenty of salt and pepper. Blitz until smooth.
Take a cooked lobster. Lay flat on a board. Insert a sharp knife into the lobsters back at the front of the head. Cut through the tail.
Spin the lobster round and cut through the head, to make two even halves.
Place the lobster halves on a baking tray. Evenly spread the butter across each.
Place under a hot preheated grill. Grill until the butter is melted and gratinated.
Serve and enjoy!
Recipe and food styling by Gizzi Erskine
Photography by Lateef Okunnu