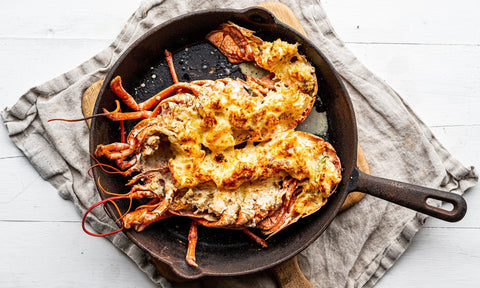 Lobster Thermidor
26 Nov 2020 by Wright Brothers Team
Our whole large lobsters that are expertly sourced are recommended for this iconic dish, to ensure you enjoy the full tasting experience of flavour and freshness.
Time

28

minutes

Serves

4

Difficulty

Easy
Ingredients
100g crème fraiche
2 egg yolks
1 tsp English mustard
1/2 tbsp dill, chopped
50g grated parmesan
Salt and pepper
Lemon to garnish (optional)
Instructions
To prepare the lobsters, take a sharp knife and split the lobster all the way through starting from head to tail.
Remove the claws by twisting them off and set aside.
Remove the tail meat and cut it into large chunks.
Crack the claws using a lobster cracker and remove the meat from the inside with a lobster pick or the handle of a teaspoon. Dispose the claw shell or keep to make a shellfish stock.
In a mixing bowl, mix the crème fraiche, yolks, mustard and dill together. Add the lobster meat and combine well, season with salt and pepper to taste.
Put the lobster mixture back in to the shells and put on a baking tray facing up, then sprinkle generously with the parmesan.
Heat your oven at 200 degrees and bake for 6 to 8 minutes until piping hot and lightly browned on top.
Serve immediately on its own or with a side of lemon slices.