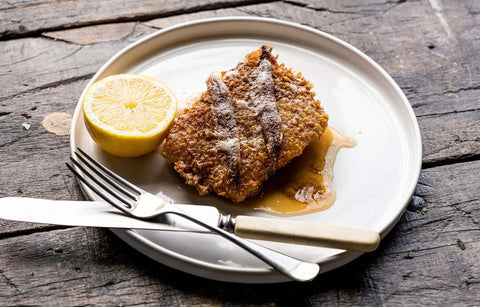 Pollack Schnitzel
03 Apr 2021 by Wright Brothers Team
Pollack is a lovely white fish with mild, delicate flavours and large flaky texture, but it sometimes gets overlooked. It's packed with plenty of nutritional values and is low in saturated fats. Just like most white fish, they are also extremely versatile and can be cooked in a variety of ways, especially when it comes to quick and easy meals. So why not give the Pollack a try with this crunchy delicious Pollack Schnitzel recipe!
Time

16

minutes

Serves

2

Difficulty

Easy
Ingredients
2 eggs, beaten
Plain flour
75gm panko breadcrumbs
Vegetable oil
50gm unsalted butter
4 anchovy fillets
Lemon juice to taste
Instructions
Season the flour with salt and pepper and then dip the fillets into the flour mixture so they are lightly dusted with flour. Put the beaten egg into a shallow dish and the breadcrumbs in a separate shallow dish. Dip the floured fish into the egg to coat and then do the same in the breadcrumbs and lightly press the breadcrumbs into the fillets.
Take a large wide frying pan and heat a half centimetre of oil, carefully add the fish and fry over a moderate heat for three to four minutes and until crisp and golden. Carefully turn over the fillets and cook on the other side for three to four minutes. Gently lift the fish out and drain on kitchen paper.
Split the anchovy fillets in half length ways and arrange them on the fillets. In a small pan heat the butter and when bubbling let it cook to a light nut brown colour. Season with salt and pepper, transfer the fillets to warm plates and spoon it over the fillets, finally squeeze over the fresh lemon juice to taste and serve immediately.