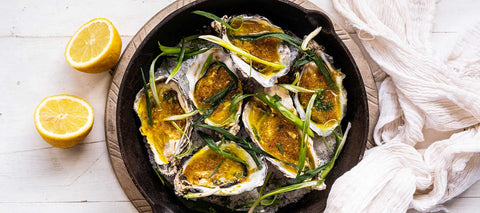 Grilled Oysters with Curry Butter
08 Feb 2021 by Wright Brothers Team
Our incredibly fresh oysters are a versatile dish for everyone to enjoy. Why not try our unique recipe of Oysters grilled with gently spiced Curry Butter.
Time

15

minutes

Serves

6

Difficulty

Easy
Ingredients
250gm butter
2 spring onions
1 shallot, very finely chopped
1tsp Madras curry powder
Small piece of ginger, peeled
1 ½ lemons
¼ bunch of coriander leaves
2 dozen oysters in the shell
Instructions
Take one knob of butter and melt it in a pan. Meanwhile soften the remaining butter.
Slice the spring onion in long fine slices and place on a bowl of cold water along with a few ice cubes.
Cook the shallot and curry powder for five minutes or until the shallot is soft.
Then beat the curry mixture into the butter. Season well with salt and pepper. Using a fine grater, grate in a little ginger pulp along with a squeeze of the half lemon. You want to impart a nice tang. Set to one side.
Preheat your grill.
Open the oysters and place on a heat proof platter.
Put a small spoonful of butter on top of each oyster and grill for a few minutes so that the butter melts and bubbles.
Arrange on a platter, halve the lemon for garnish. Lift the spring onion from the bowl and scatter over along with the coriander leaves.