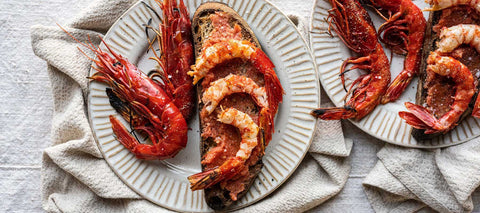 Grilled Carabineros with Pan Con Tomate
18 Apr 2022 by Wright Brothers Team
Enhance your usual Grilled Carabineros with the addition of Pan Con Tomate - an ideal dish to serve with a slice of rustic sourdough.
Time

20

minutes

Serves

2

Difficulty

Easy
Instructions
This Spanish snack is usually served at the start of the meal as part of a selection of appetisers. We love it with grilled Carabineros.

Good rustic sourdough is best for this. Traditionally once grilled you would rub a cut tomato into the bread creating a tomato mush. I spotted a friend once blending them as in the recipe below and it makes for quicker assembly if doing a larger quantity.

The traditional method is simple cut the tomatoes in half horizontally and then after rubbing the garlic into the grilled bread take a tomato half and squash and rub it into the bread until you are left with a scrap of tomato skin in your hand.

Whilst this recipe gives four good slices it is worth doing extra as it invariably gets eaten.
Grilled Carabineros
To cook, preheat a cast iron grill, heavy pan or a barbecue.
Toss in sea salt and grill for 1.5 to 2.5 mins each side for the large prawns and/or 1 to 2 minutes for the medium prawns. They are best lightly cooked.
Note: you are looking for a nice toasting and light char to the shell and head.
Pan Con Tomato
Coarsely chop the whole tomatoes and whizz up in a blender or food processor with quarter of a teaspoonful of sea salt.
Scrape into a sieve that is resting over a bowl and leave for at least half an hour for clear juices to run away. You will be left with a denser pulp that is then ready for use.
Grill or toast the sourdough until well browned.
Take a garlic clove and rub it into the crunchy surface which will act like a grater and spread a fine amount of garlic over the grilled bread.
Then spread on the tomato pulp and finish with a good drizzle of olive oil. Sprinkle sea salt if required.
Note: the remaining clear tomato water can be added to a stew or some simmering pulses if you happen to be cooking some.