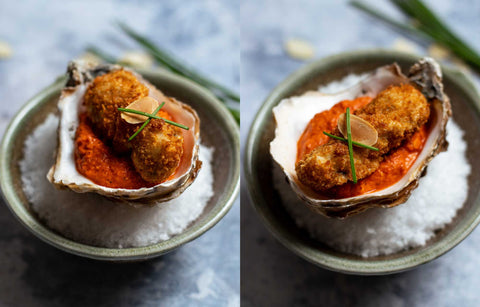 Almond-Encrusted Crispy Carlingford Oyster with Romesco by Storm Ashdown
01 Feb 2021 by Wright Brothers Team
Try our creative recipe and enjoy Almond-Encrusted Crispy Carlingford Oysters with Romesco. Packed with mood-boosting serotonin and essential vitamins.
Time

20

minutes

Serves

6

Difficulty

Easy
Ingredients
A dozen oysters
50g of panko breadcrumbs
10g of ground almonds
1 egg
50g flour
Romesco:
2 large roasted red pepper (the jarred ones work great)
2 garlic cloves
75g of mixed nuts (almonds and hazelnuts)
1 tsp of smoked paprika
generous pinch of salt and pepper
neutral oil such as sunflower or vegetable
Instructions
With us all needing a bit of a boost this year, these delicious almond-crusted oysters will be sure to lift your spirits. Nuts are known to be responsible for producing mood-boosting serotonin and red peppers are packed full of Vitamin C. So why not give these delights a try? Recipe by By Storm Ashdown (@whatstormeats)
Prepare the romesco sauce by combining the jarred peppers, nuts, garlic and paprika in a blender. Blend until smooth and thick. Season to taste.
Shuck your oysters and remove the meat from the shell. Pop on a paper towel to dry slightly.
Prepare the panko breadcrumbs by mixing the breadcrumbs with the ground almonds.
Dip the oyster first in plain flour, followed by egg, then into the nutty breadcrumbs.
Heat vegetable or sunflower oil to 180 degrees and once to temperature, carefully lower the oysters in the oil being careful not to overcrowd the pan. Cook in batches and place on kitchen roll to absorb any excess oil.