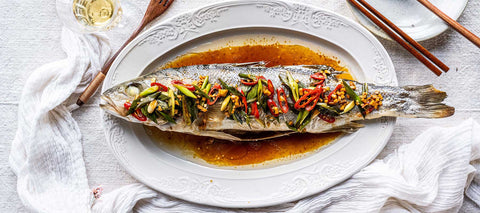 Whole Roast Sea Bass, Spring Onion and Ginger Dressing
31 Jan 2021 by Wright Brothers Team
This is a great celebration dish served in the middle of the table. Best served with choy sum or steamed Asian greens with steamed rice or fried noodles.
Time

50

minutes

Serves

3

Difficulty

Easy
Ingredients
Spring onion and ginger dressing
1 clove garlic, finely chopped
1 small bunch spring onions, finely sliced at an angle
3 tbs root ginger, chopped
25-50ml Chinese black rice vinegar (if you cannot get your hand on this then use lemon juice rather than a different vinegar)
50ml Chinese rice wine
150ml light soy sauce (Japanese)
75ml sesame oil
125ml vegetable oil
2 red chillies, finely sliced
Roasted Sea Bass
1.2-1.5kg whole sea bass, scaled and gutted
Vegetable oil
Sea salt
Batch of the spring onion and ginger dressing
Handful of picked coriander leaves
Instructions
This is a great celebration dish served at the table. I like to serve it with some choy sum or steamed Asian greens, and either steamed rice or some fried noodles and bean sprouts to accompany.
Spring onion and ginger dressing
This dressing should have a confident but not too hot chilli kick. Chinese supermarkets sell crispy dried chilli oil, I often use a good spoonful of it in this dressing in place of fresh chilli. Laoganma is my preferred brand.
Mix all the ingedients together and leave to stand for thirty minutes for the flavours to come together.

Start with 25ml of the vinegar and you may find you prefer a little more.
Roasted Sea Bass
Getting a crisp skin on a whole fish is not always easy to accomplish. Take the sea bass from its wrapping and put on a platter and wipe until completely dry with paper towel then leave at room temperature for thirty minutes.
Preheat the oven to 200C
Place your sea bass on a roasting tray and brush with a little vegetable oil and then season with salt. Transfer to the oven and cook for twenty minutes or until cooked through.
Remove from the oven and transfer immediately to a heated serving platter and spoon over a few tablespoonfuls of the dressing and then throw over the coriander.