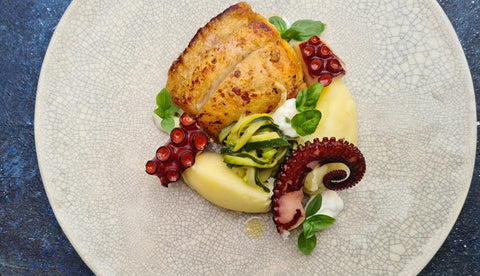 Brill and Octopus Tentacles with Oyster Sauce by Tomas Lidakevicius
06 Jul 2020 by Wright Brothers Team
A divine dish created by Tomas Lidakevicius with Brill, Octopus Tentacles and Oyster Sauce. More difficult than others, but definitely worth the challenge.
Time

35

minutes

Serves

4

Difficulty

Hard
Ingredients
1 Brill (1.2kg around 4-5 portions)
3 oysters
2 green or yellow courgettes
2-3 tbsp apple cider vinegar
150g butter
1kg desiree potatoes
300g double cream
1 vegetables stock cube
2 shallots
2pc of garlic
1/2 peels of lemon
basil, dill or parsley to dress the plate
Instructions
For the mash potato: peel the potatoes and cutting them into similar sizes. Put them into a saucepan and cover with water. Add some salt and bring to the boil and then turn the temperature down and simmer for around 20 minutes until they are soft enough to mash.
For the sauce: while the potatoes are cooking slice the shallots and crush the garlic. Sweat it in saucepan with olive oil, when soft add 3 slices of lemon peel and top up with 500ml of water. Let it cook until the onions break when touched and the liquid has reduced by half. Add the vegetable stock cube and 150g of double cream. Bring to the boil and season to taste. Finish with shucked oysters and their liquor, salt and lemon juice (make sure it's in this order to prevent it from becoming too salty).
Peel the courgette into thin long slices. Put them in a bowl with 2 spoons of vinegar and set aside.
Take the brill fillets off the bone and skin them. Place on dry paper.
Bring the rest of double cream to the boil. Drain the potatoes and dry them in the pan with the heat on (without burning them). Mash them and add your cream and cubes of cold butter, season, cover and set aside.
In a frying pan heat some oil and stir fry your courgette quickly (30 seconds). Remove and wipe your pan with dry paper towel and add oil again. When it's really hot add your seasoned Brill and cook until golden brown.
Gently grill the octopus tentacle in a pan with oil for 1-2 minutes.

To serve: place the Brill on a plate, use two tablespoons of mash potato and place the octopus tentacles on top, put the courgette in the middle (rolled up). Poor on the sauce and garnish with herbs (basil, dill or parsley).