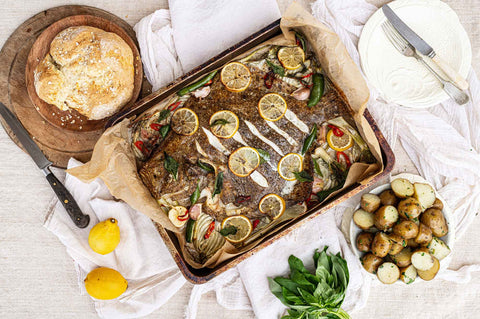 Whole roast turbot with friggitelli peppers, fennel and basil
12 Jun 2020 by Wright Brothers Team
Not only does this Whole Roast Turbot dish look impressive, but it tastes divine too. A perfect meal to create for guests to enjoy at your next get-together.
Time

46

minutes

Serves

4

Difficulty

Easy
Ingredients
2 heads of fennel
100g Friggitelli (or Padron) peppers
1 lemon
6 cloves garlic
1 red chilli
1 bunch basil
125ml white wine
Instructions
1. Heat the oven to 220C/fan 200C/gas 6. Lightly oil a baking tray, score the top skin of the turbot several times with a sharp knife. Oil the top of the fish and season with fine salt.
2. Slice the lemon into rounds and lay over the top of the fish.
3. Slice the fennel into 1cm pieces and place in the tray with the fish.
4. Add the cloves of garlic, leaving the skin on. Slice the chilli and add to the fennel.
5. Season everything with sea salt and black pepper, add extra virgin olive oil and the white wine. Bake for 30 mins.
6. Add the friggitelli peppers and basil to the tray and roast for another 5 to 10 minutes.