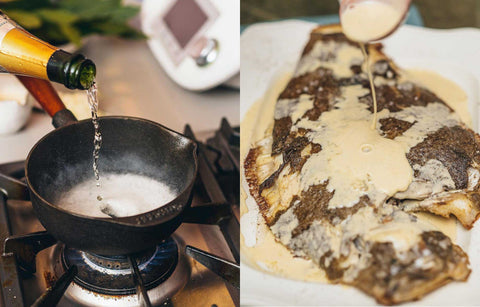 Brill with Champagne sauce by Gizzi Erskine
14 Dec 2020 by Wright Brothers Team
Champagne isn't just for drinking, you can cook exquisite meals with it too. Why not try our easy-to-follow recipe by Gizzi Erskine and see for yourself.
Time

30

minutes

Serves

4

Difficulty

Easy
Ingredients
Brill:
1 whole prepped and ready to cook brill
2 tbsp plain flour
2 tsp salt
Freshly ground black pepper
35ml sunflower oil
60g unsalted butter
Champagne sauce:
500ml of champagne (Wright Brothers Piper-Heidsieck Champagne or Della Vite Prosecco)
2 shallots or a quarter of an onion, finely chopped
Splash of vinegar
3-4 sprigs of thyme
1-2 bay leaf
3 peppercorns
150g butter, at room temperature, cubed
100ml double cream
Sea salt
Freshly ground black pepper
Pinch of sugar
Decent grating of nutmeg
Lemon
Instructions
A recipe by
Gizzi Erskine
inspired by a film starring the legendary Audrey Hepburn. Spoil yourself and your loved ones with a fresh whole prepared
Brill
doused in luscious Champagne sauce (dry fizzy wine, cava or Prosecco will work too). Cook up your Champagne sauce with our very own
Wright Brothers Piper-Heidsieck Champagne
or
Della Vite Prosecco
available to order on Wright Brothers At Home.
Preheat the oven as hot as it will go (250C)
Add the champagne, vinegar, shallot, thyme, bay leaf and peppercorns to a small saucepan and bring the boil and allow to simmer for to reduce it to a viscous syrup (approx 30ml)
Meanwhile, dust the fish lightly in seasoned plain flour
Take a large roasting tray and place on the hob over two burners. Heat until smoking hot, then add the oil and butter, and allow to get hot.
Gently place the fish, skin side down, in the tray. Allow to fry until beautifully golden brown for 5-6 minutes. Carefully turn the fish over and fry on the other side, basting regularly.
Now place in the oven for 6 minutes to finish cooking.
Meanwhile finish the sauce. Strain out all the herbs and shallot, and return the syrup to a clean small pan.
The key to making a butter sauce is to not let it get too hot. Over a low heat, whisk in the butter bit by bit, emulsifying the butter into the champagne, whisking continuously with a sauce whisk.
Once all the butter is combined, add the cream gradually, whisking continuously. Season with salt, pepper and sugar. Ladle over the sauce
Recipe and food styling by Gizzi Erskine
Photography by Lateef Okunnu