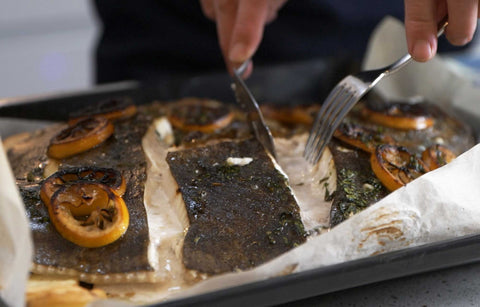 Roast Turbot with Potatoes, Fennel & Tarragon
10 Dec 2020 by Wright Brothers Team
This quick and delicious whole turbot recipe will be the perfect meal to share. A healthier alternative to your Sunday roast, our whole turbot is delivered scaled and gutted making it easier for you to prepare and pop straight in the oven with a lot less mess involved. Enjoy the flavours and flaky meat of this "King of Fish" with some fresh seasonings and potatoes on the side, and you'll have a new favourite weekend treat!
Time

55

minutes

Serves

3

Difficulty

Easy
Ingredients
1-1.5kg of fresh whole scaled & gutted turbot
4 fennel bulbs, sliced
500g potatoes, sliced
1 tsp fennel seeds
2 lemons, sliced
250ml dry white wine
Olive oil
Bunch of fresh tarragon with the leaves removed from the stalks
Salt & pepper
Instructions
Pre-heat the oven to 180°C/160°C fan/Gas mark 5. Put the slices of fennel and potatoes in a large bowl, scatter over the fennel seeds and drizzle with olive oil. Season with salt and pepper and mix everything together to coat the vegetables with the oil. Lay out the vegetables in a baking tray easily able to contain the turbot with room to spare. Roast for 15 minutes turning halfway through.
Put a good slug of olive oil in a frying pan and over a high heat, cook the lemon slices until they start to colour then turn over and do the same for the other side. Put the lemons aside.
With a sharp knife, put 3 or 4 slashes in the skin of the fish, season with salt and pepper.
Once the potatoes and fennel have come out of the oven, pour the white wine over and lay the turbot on top, white skin down. Drizzle more olive oil over the fish then arrange the lemon wedges over the fish. Scatter the tarragon leaves over the fish.
Cook for 30 minutes.
Remove the fish from the oven and test to see if its cooked. Push a toothpick into the fattest part of the fish. If there is any resistance as you pull out the toothpick, the fish is not quite cooked. If the toothpick slides out easily, the fish is done. Be careful not to overcook the fish; you can test it before the 30 minutes is up.
Serve the fish straight away with the potatoes and fennel.