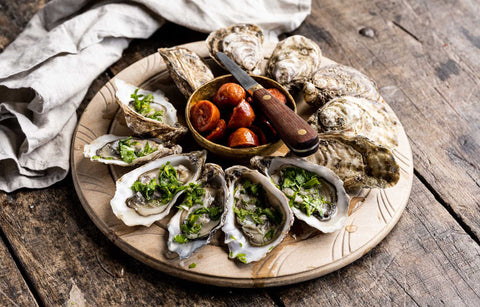 Oysters with Grilled Chorizos and Sherry & Coriander Dressing
22 Mar 2021 by Wright Brothers Team
Oysters with grilled spiced sausages is a flavour combination like no other and this is a recipe you didn't know you needed until the first bite.
Time

16

minutes

Serves

4

Difficulty

Easy
Ingredients
Dozen oysters (Carlingford, Morecambe Bay or Jersey)
6 cocktail chorizos
Sherry & Corander Dressing:
50 ml fino sherry
50 ml white wine vinegar
2 tbs shallot, finely chopped
2 tbs coriander, chopped
a good milling of black pepper
1 pinch caster sugar
4 drops tabasco
Instructions
Oysters and grilled spiced sausages create a dilemma, a bite of hot spicy sausage followed by a cooling briny oyster or said lovely oyster tempered by a bite of spicy sausage. There is no correct way!
The Dressing:
Combine all the ingredients together and chill in the fridge for an hour.
Oysters & Chorizos:
Shuck the oysters and arrange on a platter.
Grill or pan fry the chorizo until cooked.
Place them in small serving dish alongside the oysters and the sherry dressing.