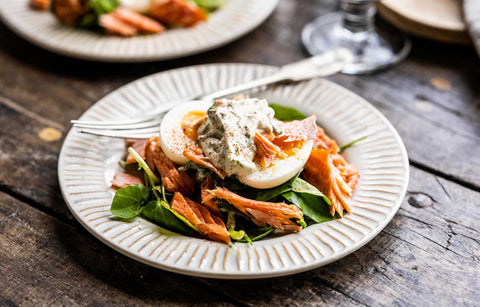 Hot Smoked Steelhead Trout with Soft Boiled Egg, Spring Onion & Herb Mayonnaise
22 Mar 2021 by Wright Brothers Team
Healthy, nutritious and so delicious, our freshly smoked trout flavoured with lemon and herbs is a refreshing meal you can enjoy any day of the week.
Time

11

minutes

Serves

2

Difficulty

Easy
Ingredients
Hot smoked Steelhead Trout (200g)
2 free range eggs
150ml fresh mayonnaise
1 spring onion
1 tbs chopped herbs
Small handful of watercress or salad
Splash of olive oil
Pinch of smoked paprika
Instructions
I haven't specified which herbs to use but parsley, chives, tarragon or basil either singly or as a combination will be ideal. A light grating of lemon zest in the mayonnaise is quite delicious if you have a lemon to hand.
The hot smoked steelhead trout should be removed from its packaging and left at room temperature for an hour before you want to eat it.
Bring a pan of water to the boil and then cook the eggs for 6 minutes, for a runny yolk or two minutes more for a firmer result. When you lift the eggs from the pan cook them quickly in a large bowl of cold water under a running tap. When cold peel them and set to one side.
Put the mayonnaise in a bowl, finely slice the spring onion and add it along with the herbs. Mix well and add salt and pepper if needed.
To serve, dress the watercress with olive oil and divide it onto two plates in a little clump. Cut the eggs in half and put two halves on top of each. Break up the trout into shards and scatter them over the eggs. Finally garnish with a dollop of the mayonnaise and a pinch of paprika.