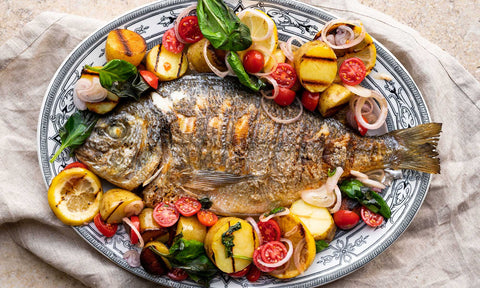 Grilled Whole Sea Bream with Cherry Tomatoes & Rosemary Potatoes
10 Feb 2021 by Wright Brothers Team
Sea Bream is widely considered to be the tastiest of all fish with its meaty texture and fresh delicious flavours. An excellent fish for all types of cooking that stands out with simple recipes.
Time

25

minutes

Serves

2

Difficulty

Easy
Ingredients
1 whole 600-800g sea bream
2tbsp olive oil
½ lemon, sliced
5-10 baby potatoes
½ tbsp chopped rosemary
5-10 cherry tomatoes, sliced
Basil leaves
Salt and pepper to taste
Shop Ingredients
Highly regarded and delicious
Serves 1 - 2

An essential ingredient that will bring flavour and crunch to your food
Instructions
Bring water to a boil and lightly add some salt, cook the potatoes for about 3-6 minutes, until just soft. Remove from the heat, drain and then rinse with cold water until completely cooled. Drain again and cut the potatoes into halves.
Transfer the potatoes to a bowl and toss in half of the olive oil, chopped rosemary and season to taste.
Heat the grill until very hot, place your potatoes onto the grill and cook for 3-4 minutes. Once crisp, remove from grill and set aside.
Then brush olive oil on your Sea Bream and season with salt and pepper, squeeze in a little lemon juice.
Place the fish on the grill for 8-10 minutes turning once, until the skin is slightly charred and the flesh starts to flake.
Remove from the grill and serve with the potatoes, tomato, shallot, lemon and basil leaves for an enjoyable dinner.