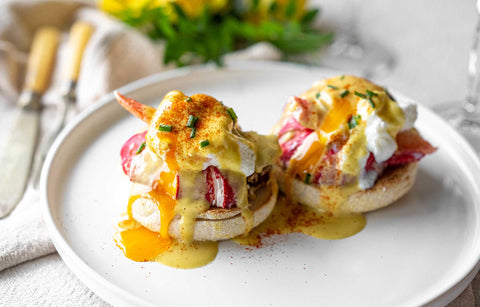 Lobster Benedict
26 Feb 2021 by Wright Brothers Team
With a recipe on how to create your very own hollandaise sauce and tips on achieving the perfect poached egg, our luxurious Lobster Benedict recipe is good for many reasons.
Time

26

minutes

Serves

4

Difficulty

Easy
Ingredients
25 ml white wine vinegar
3 egg yolks
250gm unsalted butter
Tabasco
4 eggs
2 muffins, split
Small handful of chives, chopped
Instructions
Remove the packaging around the lobster. Split it and crack the claws and then gently tease out the tail meat and claw meat. The head has some lovely green soft "head meat", scoop all this out and keep to one side. Keep all the meat out at room temperature whilst you prepare everything else.
Then make the hollandaise sauce. Place the vinegar in a pan, bring it to the boil and reduce its volume by half. Pour it into a food processor and add the eggs. Meanwhile melt the butter and ensure it is good and hot. Blitz the egg and vinegar mixture for thirty seconds and then pour in the hot butter in a slow steady stream. Just as you would for mayonnaise. If the mixture becomes too thick then add a splash of hot water. Season with a splash of Tabasco and salt and pepper, and set to one side. If you want the sauce a little sharper then add a few drops of lemon juice.
To finish and serve you can either use the lobster at room temperature or cut it into slices and warm gently in foaming butter until piping hot. Though the reserved head meat should be used without reheating.
Heat a shallow pan of salted water and poach four eggs*.
Toast the four muffin halves and butter them with the reserved lobster head meat.
Divide the lobster meat onto the four muffins and top with a poached egg then spoon over a goodly amount of the hollandaise sauce.
Scatter over some chopped chives and serve straight away.
Tip: For the perfect poached eggs, poach gently for 2-3 minutes
If just two are sharing this dish then divide the lobster onto two muffin bases or just serve the recipe split onto two plates but make a half quantity of hollandaise, and use two small yolks or a one large.

There is a helpful video showing you how to split the cooked lobster. Use the lobster shells to make a shellfish stock that can be used to make a soup or freeze to use at a later date.