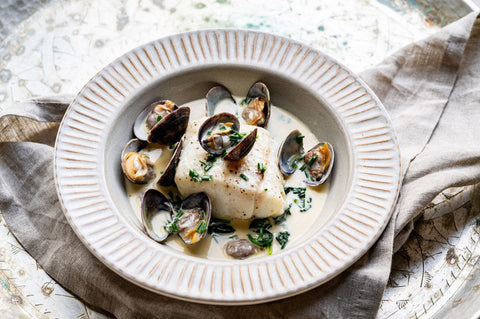 Cod with clams, cider and clotted cream sauce
02 Dec 2020 by Wright Brothers Team
An indulgent, but easy meal to make for date nights, dinner parties, or just a quiet night in.
Time

35

minutes

Serves

2

Difficulty

Easy
Ingredients
2 x cod portions
200g palourdes
100g shallots, chopped
25g butter
250ml cider
50ml cider vinegar
250ml fish stock
100ml double cream
100g clotted cream
Chopped chives
200g large leaf spinach
Instructions
Steam the clams in a little of the cider, put aside to cool and reserve the juices to add to the sauce later.
Sweat the shallots in the butter until very sweet without browning. Add the cider, vinegar and fish stock and reduce by ¾.
Add the cream and reduce by ¼. Strain out the shallots, finish the sauce by whisking the clotted cream into the warm sauce and finish with the cockles and chives.
Wash the spinach well and steam.
Pan fry the cod on the skin side on a medium to high heat until brown and crispy, turn over add a touch of butter and finish cooking in the oven.
Arrange the spinach in the middle of the plates, place the cod on top and the sauce and cockles around.