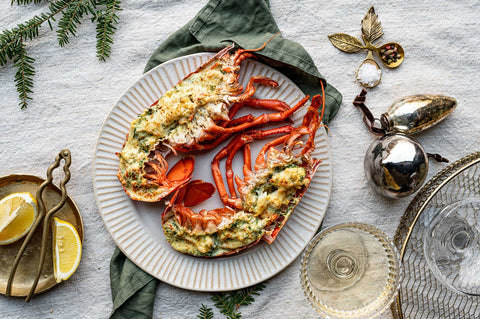 Christmas Foodhall
Indulge yourself and loved ones this festive season with our delicious Christmas fish & meat range. Perfect for all your Christmas and New Year celebrations. our festive food spans everything from shellfish to smoked seafood gifts, to award winning gammon, 
Shop our New Year's Eve collection here.
Shop our Christmas Gifts and find the perfect gift for Seafood lovers! 
TIP: Our Christmas & New Year deliveries are now OPEN. Pre-Order your delivery NOW to avoid disappointment as our slots each year fill up fast and all close before our last order dates.
Create this spectacular shellfish platter at home
Serves 4 to 5

Cured with orange, fennel, pollen & dill
Serves 8+

Available in two joint sizes

A delicious twist of cured salmon
Serves 8+

Restaurant quality smoked salmon, sliced
Serves 8+

No. 3 Size, well-balanced & fresh
Serves 2+

Christmas favourites collected into one box - a special gift for any occasion

100% free-range saddleback pork meat wrapped in dry cured bacon

Fresh Devon caught scallops
Serves 2+