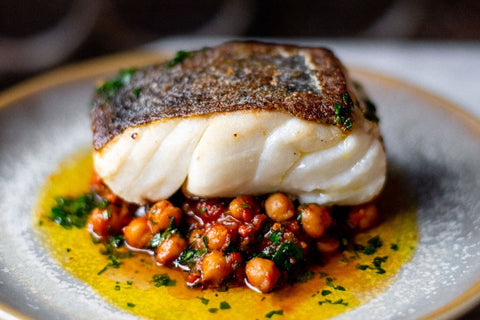 Cod with spiced chickpeas
05 May 2020 by Wright Brothers Team
Chickpeas and cod is a match made in heaven - this is a must-try meal packed with big flavours and essential nutrients.
Time

46

minutes

Serves

4

Difficulty

Easy
Ingredients
1 bunch of thyme
Extra virgin olive oil
2 tins of cooked chickpeas, drained & rinsed
2 medium shallots, finely diced
3 cloves garlic, crushed
1 thumbnail sized piece of ginger, grated
50gm chillies seeded, finely chopped
1tsp cumin seeds
2tsp cumin powder
1tbsp smoked paprika
50g tomato purée
300mls chicken stock
1 bunch coriander, chopped (you can use parsley if preferred)
Instructions
Ideally make the chickpeas the day before, this will allow the depth of flavour to come through more fully.
Chickpeas: In a thick bottomed pan sweat shallots, garlic, chillies and ginger in olive oil with the cumin seeds and powder. After 5 minutes add the chickpeas, tomato purée and paprika, cook for 5 minutes, gradually add the chicken stock to just cover the chickpeas. Braise for 15 minutes and allow to sit for the flavours to infuse?
Lightly salt the cod for 5 minutes (this will firm up the cod fillet by removing some of the water), rinse lightly in water and dry with a tea towel.
Heat the oven to 160°C. In a bowl add the chopped thyme and extra virgin olive oil. Place the cod fillets skin down and season the flesh with salt and pepper. Heat a non-stick frying pan (medium heat) and place the fillets skin down into the pan. While the cod is cooking reheat the chickpeas in a saucepan, adding the chopped coriander (or parsley).
Once the cod is well seared on the skin side turn over and place the pan in the oven (if needed) for 8-10 minutes.
Spoon the chickpeas between the 4 plates and top with the seared cod. Garnish with some of the oil from the chickpeas.