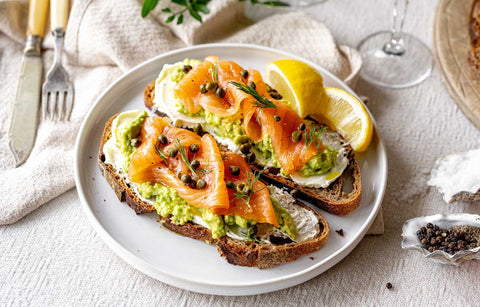 Smoked Salmon And Avocado On Toast
01 Mar 2021 by Wright Brothers Team
An iconic dish that's completely irresistible when made with our sustainably-sourced Smoked Salmon. Perfect to serve as brunch with a glass of fizz!
Time

11

minutes

Serves

4

Difficulty

Easy
Ingredients
Avocado
Capers
Spring onion
Green tobasco
Lime
Salt & pepper
Smoked bacon rashers (optional)
Shop Ingredients
Restaurant quality smoked salmon, sliced
Serves 8+

Long-cut and specially cured for us
Serves 1+
Instructions
This recipe requires ingredients and method but not precise quantities.

A good ripe avocado is best mashed up with some sea salt and plenty of black pepper.
Instead of butter I take cream cheese and season it with a little salt and black pepper, as well as some fresh chopped chilli and lemon juice which are excellent. Green tabasco and lime juice is very nice indeed.

A scattering of capers gives balance and finely sliced spring onions are most welcome.

Then all is required is good toasted bread, spread with cream cheese and then a layer of avocado, then finally drape the smoked salmon over the top and a sprinkling of capers.

If you want to embellish it further, as a final flourish, add thin rashers of smoked bacon that have been cooked until crisp.