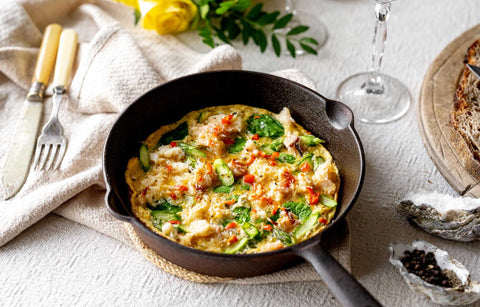 Crab Asparagus & Spinach Pan Frittata
01 Mar 2021 by Wright Brothers Team
A cast-iron frying pan is ideal for this frittata recipe, as it can be used as a serving dish on the table. Best served with toasted sourdough bread and a glass of champagne... or two!
Time

26

minutes

Serves

4

Difficulty

Easy
Ingredients
250g bunch asparagus
Olive oil
115g bag baby spinach (approximately)
6 eggs
1 medium red chilli, seeded and chopped (medium chilli and medium heat, if you like it spicy add more chilli, less for less!)
75g unsalted butter
Instructions
Bring a salted pan of water to the boil. Then cook the asparagus for three to five minutes or until tender. Remove the asparagus form the pan and refresh it in plenty of cold water. Then drain and slice the tender parts into fine rounds, keeping the tips whole.
Warm a splash of olive oil in a saucepan and add the spinach, season with salt and pepper and cook over a medium heat until the spinach wilts down and is cooked. Transfer to a colander and with the back of a large spoon press out any excess liquid. Then coarsely chop the spinach.
Break the eggs into a bowl, season with salt and pepper and beat well.
Preheat your grill.
Fold the asparagus and spinach into the egg mixture. Heat a splash of oil in your frying pan and add the egg mixture. As the bottom cooks stir it gently with a spatula for one minute and then let it set and the base starts to colour a little.
Meanwhile in a saucepan melt the butter and when foaming add the white crab meat and chilli, stir gently for two to three minutes or until the crab is piping hot.
By this point the frittata will be almost cooked. Put it under the grill for a moment to set the top (keeping the eggs lightly cooked and slightly runny like an omelette is our preferred result).
To serve spoon the crab over the frittata and consume straight away.