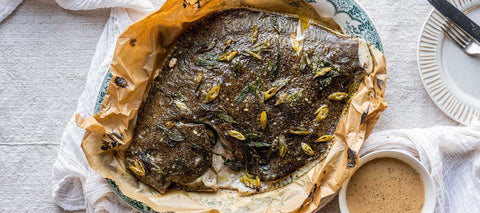 Whole Baked Turbot, Brown Crabmeat & Cider Vinegar Sauce
08 Feb 2021 by Wright Brothers Team
A delicious showstopping dish that'll leave a lasting impression on your guests. Best served with roast potatoes and greens.
Time

35

minutes

Serves

2

Difficulty

Easy
Ingredients
Brown Crabmeat and Cider Vinegar Dressing
125gm brown crab meat
20ml cider vinegar
1/2tsp dijon mustard
2tsp Japanese soy sauce
100ml olive oil
50ml cream or milk(to thin it down to a drizzleable consistency)
Whole Turbot
3 spring onions
25ml cider vinegar
25ml vermouth
50ml olive oil
salt and pepper
Shop Ingredients
Best of British, trimmed & oven ready
Serves 4-5

Pot caught brown crab meat, creamy and full of flavour
Serves 4
Instructions
Brown Crabmeat and Vinegar Dressing
Our brown crab meat is delicious mashed onto a thick slice of hot buttered toasted sourdough bread with some salt and pepper and a dash of Worcestershire sauce. As this recipe calls out for only half the tub you get a second dish from it.
Put all the ingredients except for the cream/milk into a blender and blitz until smooth.
Season with salt and pepper and whisk in the cream or milk to thin it down a little.
Turbot
A magnificent fish to serve at the table
Pre heat the oven to 180 degrees Celsius.
Remove the turbot from the fridge and allow to come to room temperature for thirty minutes.
Finely slice the spring onions at an oblique angle and mix with the vinegar, vermouth, olive oil, salt and pepper
Line a baking pan with greaseproof paper place the turbot on top and then spoon over the spring onion mixture.
Place it in the oven and bake for fifteen minutes for a 1kg fish and twenty minutes for a 1.5kg fish. You may find that you have to cook it for a little longer. If you have a temperature probe you are looking for a core temperature taken at the thickest part against the bone of 50-55 degrees Celsius, otherwise slide in a skewer and hold it there for ten seconds and when you remove it the skewer should feel hot but not piping hot when held against your upper lip.
The fish now needs to rest for fifteen minutes in a warm place covered with foil. After fifteen minutes there should be some lovely pan juices.
Carefully lift the top two fillets form the fish onto warmed plates, tease off the back bone and serve the other two fillets, spoon over the brown crab dressing.