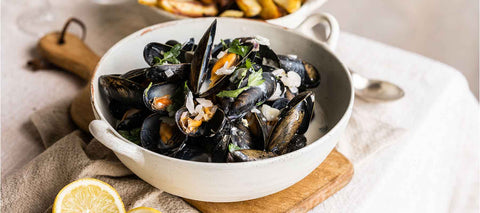 Moules à la Crème
04 Feb 2021 by Wright Brothers Team
Enhance the rich flavours of our mussels with the must-try Moules à la Crème recipe. Best enjoyed with chunky chips or a crusty baguette.
Time

45

minutes

Serves

6

Difficulty

Easy
Ingredients
2kg Mussels
250ml Muscadet or Gros Plant
4 large shallots
2 cloves of garlic
200ml creme fraîche
4 tbs chopped parsley
Shop Ingredients
1kg of meaty and juicy Devon produced mussels
Serves 2 plus
Instructions
2kg will serve up to 6 for a starter, or 2 to 3 as a main course.

Baguette or chips is a must, a bowl of aïoli or mayonnaise a great accompaniment. Making chips at home is straightforward if you have a deep fryer. I currently don't have one and so make crunchy roast potatoes cut into long wedges (duck fat potato wedges).

Discard any mussels that are open or don't close whilst being prepared.
Wash under running cold water and set aside in a colander.
In a large pan heat the wine, shallot and garlic until it comes to the boil. Simmer gently for ten minutes or until the shallot is cooked.
Add a generous seasoning of black pepper and then throw in the mussels, cover and cook for about five minutes or until the majority of mussels have opened.
Lift them out of the pan with a slotted spoon and transfer them to a bowl. Remove and throw away the stubborn few that refuse to open. Bring the liquid back to the boil and add the creme fraîche.
Give the mixture a good whisk and return the mussels.
Add the parsley, stir well and tip the contents into a bowl and serve with good baguette or some freshly made chips.