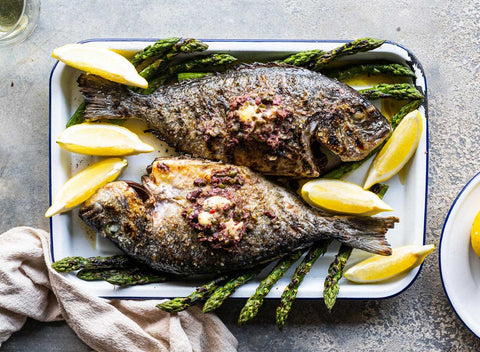 BBQ Whole Sea Bream
18 Apr 2022 by Henry Harris
To serve, place the fish on a large serving platter and garnish with asparagus, lemon wedges and a drizzle with very good olive oil.
Time

30

minutes

Serves

2

Difficulty

Easy
Ingredients
1 whole sea bream 600-800g (serves 1 or 2)
Sea salt
Black pepper
250g butter, softened
100g kalamata olives, stoned and coarsley chopped
Capers Sauce:
2 tbs capers
1 clove garlic, finely chopped or grated
Instructions
Fish sticking on the barbecue is something that at times plagues us all. After years of looking for a solution I recommend the best success by using the following method. But first your barbecue grill rack must be very hot and well scrubbed with a stiff grill brush.
For the Whole Sea Bream
It must be scaled, which if you have just had it delivered from us it will be. Then with some paper towel wipe the skin until completely dry, and then wipe it again with fresh towel until it is even more completely dry.
Season the skin generously with sea salt and press it in so quite a bit sticks.
Cook it over the hot coals. Quite a bit of salt will fall off during the cooking and that helps it not stick to the bars.
Depending on the thickness of the fish and the heat of the coals your fish will take five to ten minutes to cook on each side.
If English asparagus is still in season then blanche and grill it on the barbecue.
Kalamata olive and caper butter
I also often make this butter with the addition of four chopped anchovy fillets
Beat all together until smooth and well mixed. Add the anchovies if you are using them. Finally season with a generous milling of black pepper and sea salt if needed.
Roll up into a sausage in a greaseproof paper and chill until needed.
To serve put the fish on a large serving platter and garnish with the asparagus, drizzle over some very good olive oil and add some lemon wedges. Compound butters are delicious on grilled fish and the kalamata olive and caper butter is a good paring here. Put slices on the fish when you take it off the grill and put it on the serving platter with the asparagus, grilled aubergine is good too. Fresh torn up basil leaves scattered over the whole affair is a good garnish too.