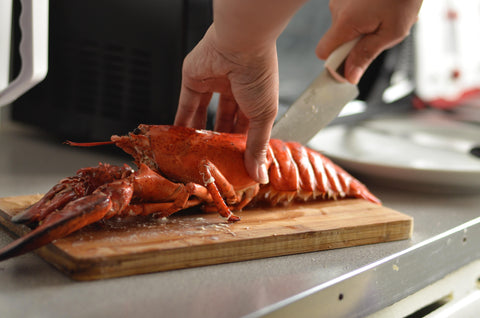 Piri-piri lobster with BBQ'd sweet potatoes
18 Apr 2022 by Wright Brothers Team
Packed with important nutrients, our lobsters are a luxurious treat for any special occasion. Why not try something new with our tasty Piri-Piri recipe.
Time

61

minutes

Serves

2

Difficulty

Easy
Ingredients
Piri-Piri Sauce:
2 red peppers
1 red onion
4 cloves of garlic
1 lemon
50ml red wine vinegar
5 red chillies
1 tsp smoked paprika
½ tsp salt
½ tsp ground black pepper
Garnish:
Greek yoghurt
Spring onions
Instructions
To make the piri-piri sauce, deseed and dice the peppers, dice the onion. Roast together at 180c until soft and slightly charred.
Add to a food processor with the rest of the piri-piri ingredients and blitz until smooth.
Add everything to a saucepan and simmer for 20 to 30 mins to thicken.
Split the lobster with a sharp knife, dice the tail meat into 3 or 4 pieces. Crack the claws. Spread the piri-piri sauce over the lobster and leave for 30 mins to marinate.
For the sweet potatoes, add a little oil and sea salt, wrap in two layers of tin foil and place on the BBQ. Cook for 30 mins, turning regularly, until soft enough for a knife to run through easily.
Place the marinated lobsters and lobster claws separately on the BBQ and cook for 6 to 8 mins to reheat. Unwrap the sweet potatoes and place back on the BBQ to char the skins.
Score the potatoes and top with the yoghurt and sliced spring onions.