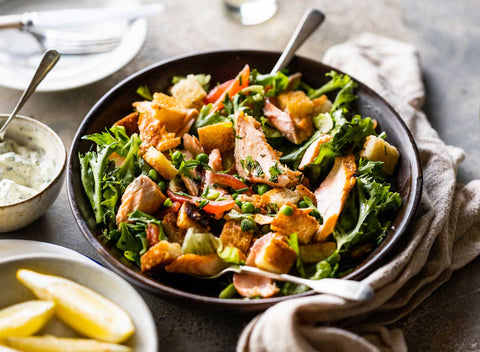 Rare Grilled Fillet of Salmon, Broad Bean & Pea Salad with Mint Mayonnaise
18 Apr 2022 by Wright Brothers Team
I have experimented with numerous posh frozen brands and continually come back to a high-street brand we all grew up with. The broad beans have to be fresh, as does the mint. The thing you need to do last is the salmon, so it is warm. All the other steps can be done in advance and the dish assembled or the last minute.
Time

25

minutes

Serves

4

Difficulty

Easy
Ingredients
1-1.5kg VAR whole side salmon (cut in half to 500g, skin removed)
250g frozen peas
1kg fresh broad beans in their pods, shelled
2 tomatoes
3 slices white sandwich bread, crusts removed
Olive oil
1 handful of mint leaves, chopped
1 quantity mayonnaise
½ teaspoon mint sauce out of a jar (it boosts the flavour of the fresh mint)
Small head of frisee, roughly chopped
1 bunch of chives, chopped into 1cm lengths
juice of lemon
Instructions
Blanch the peas in plenty of boiling unsalted water for 2 minutes, remove and refresh under cold water.
Add the broad beans and salt to the water and blanch for 3-4 minutes depending on their size. Remove and refresh under cold water. Peel the skin from the beans end set aside with the peas.
Plunge the tomatoes into the boiling water for 20 seconds, remove and refresh under cold water. Peel, deseed, cut into strips and set aside.
Cut the bread into small cubes. Heat 4 tablespoons of olive oil in a frying pan and fry the bread until golden and crisp. Transfer to a sieve and allow to drain, then place on kitchen paper and season with a little salt.
Gently stir the mint leaves into the mayonnaise along with the mint sauce and check the seasoning.
Preheat a cast-iron griddle. Season the salmon and lightly brush with oil. Grill for 3-4 minutes on each side, then leave to rest for 10 minutes. The flesh in the middle should be medium rare- don't be afraid to cut it open and have a look. This really is a delicious way to eat salmon and I would encourage you to try it this way, but if you would rather, cook it for slightly longer.
Place the broad beans, peas, frisee, tomatoes, croutons and chives in a large bowl and toss with a little olive oil, lemon juice, salt and pepper.
Rake the salmon coarsely, add to the salad and fold in gently.
Arrange in piles on 4 plates, place a generous dollop of mayonnaise on top and serve.