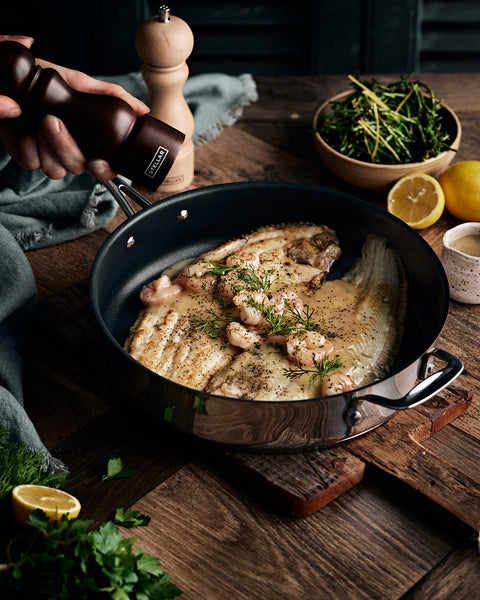 Pan Fried Dover Sole and prawns with vanilla pepper butter and samphire
03 Oct 2023 by Wright Brothers Team
Time

30

minutes

Serves

2

Difficulty

Average
Ingredients
Serve something truly special with one of the most prized fish from British waters. We've collaborated with stylish cookware specialists Stellar Kitchen to create this wonderful take on the Dover Sole. Best cooked whole on the bone, the Dover Sole has a lovely, sweet flavour with a firm and almost meaty texture. It pairs beautifully with the sweet prawns, vanilla butter sauce and peppery accents in this dish. Gently fry and serve with crunchy samphire for an unforgettable fish feast.
Vanilla Pepper Butter
150ml Dry White Vermouth
200ml Fish Stock
1 Vanilla Pod, seeds scraped
½ tsp Coarse Cracked Black Pepper
1tbsp Unsalted Butter. Soft
1tbsp Plain Flour
Rock Salt to season
Pan Fried Sole & Prawns
1tbsp Olive Oil
2tbsp Plain Flour
Sea salt, Black Pepper & Lemon Juice to season
Sichuan Lemon Samphire
1tbsp Unsalted Butter
½ tsp Sichuan Peppercorns, cracked
½ Lemon, Juice
Shop Ingredients
One of the most prized British fish
Serves 1

Peeled and deveined for minimum fuss
Serves 6
Instructions
Begin with the sauce. Add the Vermouth, fish stock, vanilla and pepper to a saucepan and bring to a boil. Reduce the heat and simmer for 5 minutes or until reduced. Mix the butter with the flour to make a smooth paste and whisk into the reduction. Taste, season with salt and set aside to keep warm.
Heat the oil for the fish in a large Sauté Pan. Season the flour with salt and pepper and dust both fish fillets, shaking off the excess. Reduce the heat in the pan to medium and add the fish, skin side down. Cook for 3 minutes, then flip. Add the prawns and cook for 3 minutes more, or until the fish is tender and the prawns are pink.
Remove from the pan and divide between two plates.
Add the butter for the samphire to the Sauté Pan and heat over a medium high heat. Add the samphire and Sichuan pepper then sauté for 1 minute. Remove from the heat and add the lemon juice. Taste - the samphire is salty so it shouldn't need any extra.
Discover specially designed and stylish cookware that creates wonderful one-pan dishes from : https://stellar.co.uk/