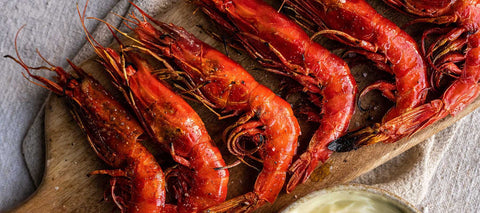 Grilled Carabineros
18 Apr 2022 by Wright Brothers Team
Exceptional Grilled Carabineros that are full of flavour and freshness, perfect to serve at your next dinner party as a starter or side dish.
Time

10

minutes

Serves

2

Difficulty

Easy
Ingredients
2 large carabineros each or 3-4 medium carabineros
Sea salt
Instructions
These exceptional prawns from Spain have a flavour that is outstanding, a dense mineral sweetness to the tail and the juices in the head are like a shellfish bisque. In Spain it is the juices from the head that are most prized. A messy but joyous business to eat as the table resounds to the slurping noises of enthusiastic diners.

They don't really need anything but sea salt for the cooking but the classic "pan con tomato" on the plate to catch all the juices is a brilliant recommendation from Robin Hancock.

Another fine method is to make some aïoli and when you remove the head, squeeze some of its juices over the aïoli and stir it into a loose mess.

The prawns are frozen at sea so they retain their freshness and flavour. The best method of defrosting is to remove from the freezer and defrost slowly in the fridge for twenty-four hours.
To cook preheat a cast iron grill, heavy pan or a barbecue.

Toss in sea salt and grill for

1.5 to

2

.5

mins

each

side

for the large prawns

and

Or

1 to 2 minutes for the medium prawns. They are best lightly cooked.
Note: you are looking for a nice toasting and light char to the shell and head.