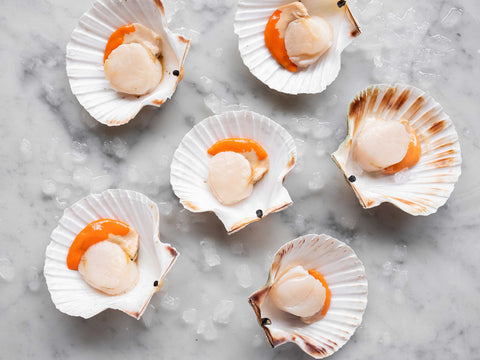 Scallop gratin with Comte and breadcrumbs
02 Jun 2020 by Wright Brothers Team
We know Scallops are a luxurious treat, but why not go that little step further and create a Scallop Gratin with Comte and Breadcrumbs. Our recipe is easy to follow and completed within an hour.
Time

61

minutes

Serves

2

Difficulty

Easy
Ingredients
6 medium scallops in the half shell (cleaned)
500ml whole milk
2 shallots
1 bay leaf
5 peppercorns
30g unsalted butter
30g plain flour
50g gruyere cheese (cheddar also works well)
1 tbsp dijon mustard
1 tsp worcestershire sauce
30g sourdough breadcrumbs
20g parmesan, grated
Instructions
To make the breadcrumbs, remove the crust from the bread, add to a food processor and season with a little salt and pepper. Blitz until fine.
Add the milk to a saucepan with the peppercorns and bay leaf, heat gently until it reaches a simmer then remove from the heat and leave to infuse for ten minutes.
Finely dice the shallots and add to another saucepan with the butter. Cook gently until the shallots are soft and translucent.
Add the flour to the butter and cook gently, stirring with a wooden spoon until the mix is smooth and golden brown. This will take 3 to 4 minutes.
Remove the bay leaf and peppercorns from the milk. Gradually add the milk, and keep stirring. Cook the sauce for 8 to 10 minutes, it should be thick enough to coat the back of the spoon.
Finish the sauce by adding the mustard, Worcestershire sauce and the grated cheese.
Line the scallops on a baking tray, and top each scallop with the sauce. Cover with the breadcrumbs, then the grated parmesan.
Bake at 180c for 20 mins or until golden and bubbling.