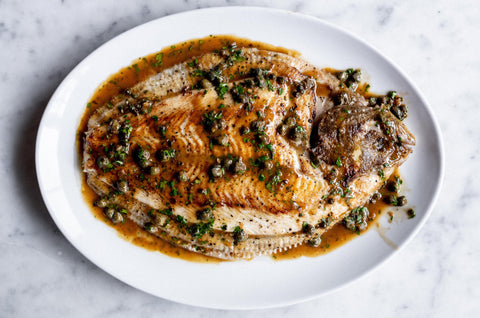 Roasted Brill with Green Peppercorn & Caper Sauce
06 May 2020 by Wright Brothers Team
A great sauce to serve with whole prime fish, we use brill in this recipe, but dover sole, turbot and lemon sole would marry equally well.
Time

31

minutes

Serves

4

Difficulty

Easy
Ingredients
1 large brill 500g-1kg, with the head taken off
500ml good chicken stock
20ml brandy
2 large onions, thinly sliced
50g green peppercorns in brine
50g small capers in brine
100g unsalted butter, cut into cubes and kept cold
20ml double cream
20g rosemary
Instructions
Preheat the oven to 180°C.
To make the sauce, lightly fry the onions in 1 cube of the butter until translucent, add the brandy and light. Reduce the brandy so the alcohol is cooked off and then add the chicken stock. Reduce the chicken stock by 2 thirds and remove from the heat.
Place the brill in a large roasting tray, add the sliced onions, rosemary and garlic and a splash of water. Bake for 20-25 minutes for a 500g Brill or up to 35-40 minutes for a 1kg Brill.
While the fish is roasting reheat the sauce. As it comes to the boil add the double cream and then whisk in the butter (1 cube at a time). Do not boil the sauce at this time as the sauce will split. When the butter is in add the capers, green peppercorns, chopped parsley and adjust the seasoning if required.
Keep warm until the fish is ready to serve.