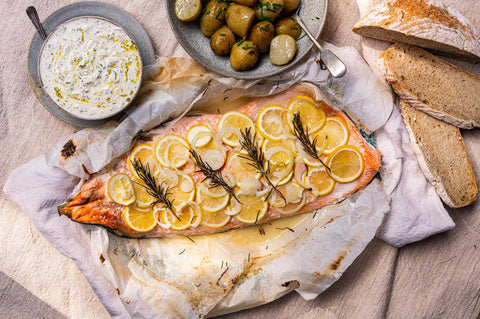 Poached salmon with cucumber and dill sauce
18 Apr 2022 by Wright Brothers Team
Our sustainably-sourced Salmon with Cucumber and Dill Sauce is a simple showstopping meal that's perfect for spring and summer.
Time

41

minutes

Serves

6

Difficulty

Easy
Ingredients
1 salmon fillet or VAR salmon fillet 1kg (skin on)
2 lemons
2 shallots
4 sprigs rosemary
250ml white wine
1 bunch of dill
2 cucumbers
200g mayonnaise
100g crème fraiche (or yoghurt)
50ml extra virgin olive oil
1 tbsp wholegrain mustard
Instructions
Line a deep sided baking tray with parchment paper. Lightly oil the paper and place the salmon skin side down on the tray. Season with sea salt.
Thinly slice the lemons and shallots and use to cover the salmon. Add the rosemary sprigs, and pour the white wine, and a splash of water into the tray with the fish.
Cover the tray with tin foil and bake at 180C, for around 30 mins. The fish should be cooked to between 50 and 55C, use a probe to check the middle of the salmon.
To make the sauce: while the fish is resting, chop the dill, and grate the cucumber on the coarse side of a box grater. Add the mayonnaise, crème fraiche, mustard and extra virgin olive oil into a mixing bowl and whisk to combine. Add the cucumber and dill and mix again.
Serve the fish with the sauce poured over in the baking tray and enjoy with toast toast or new potatoes.