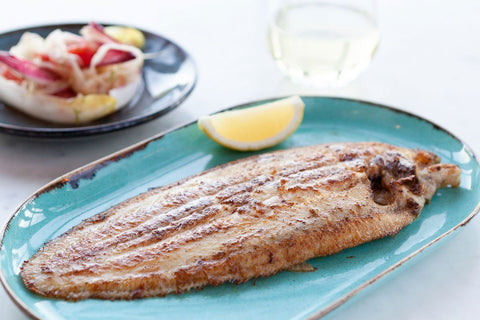 Pan Fried Dover Sole with Bearnaise sauce
11 Aug 2020 by Wright Brothers Team
Ingredients
4 Dover soles, black skin removed
2 egg yolks
Pinch of cayenne pepper
1 tsp tarragon vinegar (if not available white wine vinegar)
125g butter plus 50g for cooking
½ bunch fresh tarragon
Instructions
For the Bearnaise sauce: put the egg yolks in a mini food processor and season with salt, pepper and a pinch of cayenne, then add the vinegar. Melt the butter in a pan and bring it to a simmer – the butter needs to be hot so that it will cook the egg yolks slightly.

Turn the processor on and add the hot melted butter slowly while the processor is running. Once all the butter has been added and the mixture is smooth and thick, pour it into a bowl and stir through the tarragon leaves. Do not refrigerate the Bearnaise as it will spoil.

For the Dover: lightly season the fish and heat on a non-stick saucepan to a medium heat. Lightly butter the pan and place the Dover sole into the pan, with the white skin facing up, making sure you place the fish away from you to avoid splashes. Cook until golden brown, then turn over. Reduce the heat and add a knob of butter and baste the fish until cooked (about 6 minutes).

Serve on a plate with a wedge of lemon.

This classic way of serving dover sole allows the fish to sing.