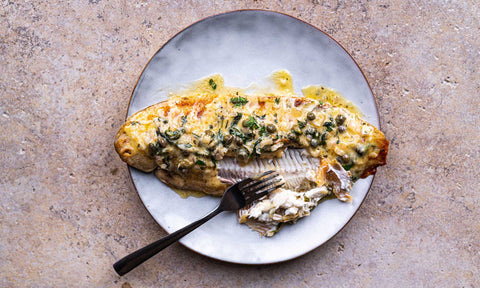 Pan-fried Dover Sole with capers, lemon & parsley butter sauce
13 Aug 2020 by Wright Brothers Team
A wholesome Dover Sole meal with your very own homemade Bearnaise Sauce - a simple, delicious recipe we urge you to try!
Time

40

minutes

Serves

2

Difficulty

Easy
Ingredients
50g unsalted butter, plus extra for greasing
2 x whole dover sole (approx 280g - 340g)
25g plain flour, seasoned with salt and pepper
Capers, Lemon and Parsley Butter Sauce:
1 small lemon
2 tbsp dry white wine
1 tbsp white wine vinegar
25g shallots, very finely chopped
1 tbsp double cream
75g chilled unsalted butter, cut into 1cm pieces
1½ tsp small capers, drained and rinsed
1 tbsp curly leaf parsley, chopped
Instructions
Heat the oven to 200ºC/fan180ºC/gas 6. Butter a non-stick baking tray. Season the fish lightly on each side with salt and pepper. Set aside.
For the butter sauce, cut off the ends of the lemon, then slice away the skin, removing all the bitter white pith.
Using a small, sharp knife, cut out the flesh of the lemon segments and put in a bowl. Remove any pips and cut half the segments into small pieces.
Put the dry white wine, white wine vinegar, shallots and 6 tbsp water in a saucepan. Bring to the boil, then reduce the heat and simmer vigorously until the liquid has reduced to about 2 tbsp.
Add the cream and simmer for a little longer until the liquid has reduced back to 2 tbsp. Set aside.
Heat a non-stick frying pan large enough to accommodate one fish over a medium heat. Add half the 50g butter and melt without letting it brown.
Dust one of the fish in the seasoned flour and knock off the excess. Increase the heat under the pan to high. When the butter is foaming, lay the floured fish in the pan, top-side down, and cook for 2 minutes or until nicely browned.
Carefully turn the fish and cook for 2 minutes on the other side, then transfer to the buttered baking tray. Repeat the process with the second fish. Slide the baking tray into the oven and bake for 7-8 minutes.
Shortly before the fish are ready to come out of the oven, return the sauce to a high heat. Once hot, lower the heat slightly.
Using a small, horseshoe-shape whisk, gradually whisk in the 75g chilled butter, a few pieces at a time, until the sauce is smooth and thick.
Taste and season with a little salt and some pepper, then stir in most of the capers, parsley and the lemon pieces. Remove from the heat.
Take the fish out of the oven. Check they're cooked through - the flesh close to the head should lift away easily from the bones.
Lift the fish onto warmed plates and spoon the butter sauce down the middle of each. Sprinkle over the remaining capers, parsley and lemon segments. Serve with boiled potatoes and steamed greens.