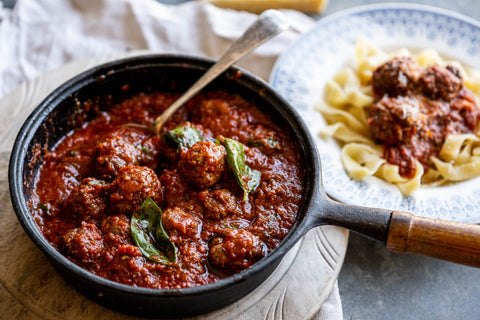 Meatballs and Spaghetti
03 Oct 2022 by Wright Brothers Team
Comfort food at it's finest. Be amazed at how flavourful and delicious these meatballs are!
S
paghetti and meatballs a great
 family-favourite - 
delicious, rich,
moreish
 and 
satisfying... that's meatballs! 
Time

60

minutes

Serves

6

Difficulty

Easy
Ingredients
Meatballs
500 g /1 lbs beef mince
½ cup breadcrumbs
1 egg
½ onion grated
1 clove garlic minced
1 teaspoon worcestershire sauce
½ teaspoon dried rosemary
½ teaspoon dried thyme or dried oregano
1 teaspoon sea salt
½ teaspoon black pepper
Marinara
1 can tomatoes chopped
1½ cups passata
1 cup stock beef or chicken
1 onion finely diced
3 cloves garlic minced
1 teaspoon worcestershire sauce
1 teaspoon dried rosemary
1 teaspoon dark brown sugar
1 tablespoon olive oil
½ teaspoon sea salt adjust depending on saltiness of stock used
½ teaspoon black pepper
To serve
400 g /14oz dried spaghetti
fresh basil leaves optional
freshly grated parmesan cheese optional
Instructions
Making the meatballs
In a medium-large bowl, combine all the meatball ingredients and mix with one hand until just combined.
With both hands, shape the meatballs to about the size of a golf ball or slightly larger. Makes about 14-15.
Place meatballs into a large non-stick pan or lightly oiled skillet. Sear on medium-high heat.
Once brown (about 5-6 minutes), turn the meatballs with a pair of tongs and brown the other side then remove from the pan.
Making meatball marinara
In a heavy-based pot, add olive oil and onions. Cook on medium-low heat until onions have turned soft. This will take about 6-7 minutes.
Add garlic and stir through until fragrant (about 30 seconds).
Add remaining marinara ingredients into the pot and turn the heat up to high and bring to boil.
Gently add meatballs into the pot and simmer for 25-30 minutes on low heat and no lid. Stirring every 10 minutes.
To serve
With 10 minutes before meatball marinara is ready, cook spaghetti according to packet instructions.
Place spaghetti onto a serving plate and top with 3 to 4 meatballs with marinara sauce per serve.
optional: sprinkle freshly grated parmesan cheese and fresh basil leaves.