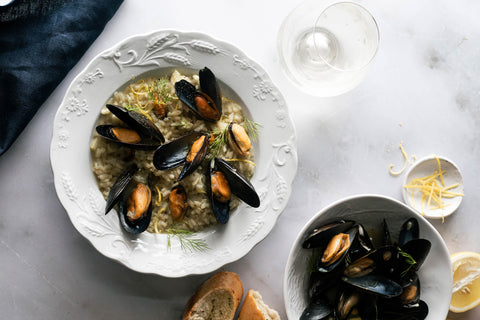 Lemon & Mussels Risotto by Jelena Fairweather
09 Feb 2022 by Wright Brothers Team
Enjoy spending time creating this delicious recipe by Jelena Fairweather @into.trends made with our fresh organic mussels that are beautifully juicy and plump! A versatile meal that can be enjoyed as a winter warmer or with a glass of wine on a summer's evening.
Time

50

minutes

Serves

4

Difficulty

Easy
Ingredients
Mussels:
1 onion, finely chopped
1 bay leaves
2 thyme sprigs
1 tbsp unsalted butter
250ml dry white wine
Risotto:
1 garlic clove, crushed
1 tbsp unsalted butter
200g arborio rice
2 pinches of sea salt flakes
100ml dry white wine
200ml veg stock
1/2 lemon zest + juice
50g Parmigiano Reggiano cheese
Lemon zest
Dill stem
Shop Ingredients
1kg of meaty and juicy Devon produced mussels
Serves 2 plus

Well-balanced with a crisp acidity and gentle minerality
Instructions
Rinse the mussels under the cold water
In a large saucepan over a medium heat, sweat half the onions, bay leaf and thyme in the butter for one minute. Increase the heat to high, add the mussels, pour in the wine and cover with a lid to cook for three minutes
Drain in a sieve, but make sure you reserve the cooking juices for the risotto later on, and discard any mussels that have not opened
In a large saucepan melt the butter, then add and cook the onions until they appear translucent
Add the garlic and stir into the rice
Add the white wine and let it cook for a couple of minutes until the rice appears shiny
Keep adding the remaining liquids (stock and juice from the mussels little by little until the rice is cooked - this should approximately take 20 minutes on a low heat
Finally add the cheese along with the lemon zest, juice and mussels. Season with salt and pepper up to taste
Cover with a lid and set aside for a couple of minutes before serving
Serve with extra parmigiana, zest and dill and enjoy!