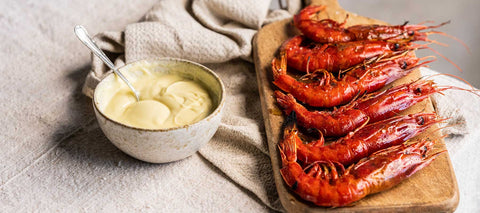 Aioli Sauce
07 Feb 2021 by Wright Brothers Team
Time

6

minutes

Serves

4

Difficulty

Easy
Ingredients
3 large egg yolks
3-4 large garlic cloves
Juice of a lemon
500ml extra virgin olive oil
Shop Ingredients
The king of all prawns!
Serves 2+

The king of all prawns!
Serves 3+
Instructions
Aïoli is a sauce in itself and is not a mayonnaise but rather its punchy brother or sister. It should only be made with the ingredients listed below. Traditionally it is made in a pestle and mortar, but I make this at home in a food processor so that a thick unctuous sauce is the result, think of the texture of a large tub of hand cream.
Put the egg yolks in a food processor.

Crush the garlic to a smooth paste or grate on a fine microplane grater, add it to the egg yolks along with the juice of half a lemon and a seasoning of salt and pepper.

Whizz up for a minute or until the yolk mixture becomes paler in colour.

Then add the olive oil, start with a very slow steady stream.

Once about a third of the oil has been added it should have got thicker and will continue to do so. If it gets so thick it looks like it will split then add a small splash of cold water (1-2tablespoons).

Taste at this point too as you will probably need to add a little more lemon juice.

Once all the oil has been whisked in check the seasoning and add more salt, pepper and lemon juice as needed.
Note: On the rarest of occasions the mayonnaise will split when you are making it. You will know as it will turn from a thick emulsion to a liquid. Fear not, scrape it all into a measuring jug. Wipe out the food processor and add 2-3 tablespoons of cold water. Then start to add the split aïoli, a teaspoonful at a time until you can see it emulsified and then add the rest pouring in a slow.