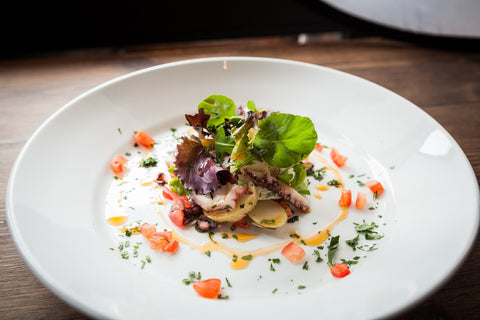 Octopus Carpaccio
18 Apr 2018 by Wright Brothers Team
An old favourite from our Borough Market restaurant. Use our cooked tentacles to cut down the preparation time. Simply defrost a day ahead to enjoy. A perfect starter or light plate.
Time

90

minutes

Serves

4

Difficulty

Average
Ingredients
600g of raw Galician double sucker octopus
500g Rosevale potatoes (or a similarly waxy new potato)
1 lemon
100ml extra virgin olive oil
200g plum tomatoes, seeds removed and diced
2 cloves of garlic, finely diced
1/2 bunch parsley, chopped
20ml soy sauce
50g rocket salad
5g Smoked Paprika
3 juniper berries
1 sprig rosemary
Shop Ingredients
Responsibly sourced using traditional traps
Serves 2 to 3

A versatile extra virgin olive oil from Spain.
Instructions
Steam the octopus for 90 minutes, retaining the juices
Allow to cool and slice the octopus as thinly as possible
Simmer the potatoes with the rosemary and juniper, in half the octopus liquor until just cooked. Drain, and place in a sealed container to steam. This allows the waxiness of the potato to come through.
In a bowl whisk together the lemon juice, olive oil and about 20 ml of the octopus cooking liquor. Add the smoked paprika, tomato concasse, chopped garlic, soy sauce and parsley to the dressing, allow to stand for 10 minutes.
To serve arrange the octopus and potato slices on the plate, lightly dress with the dressing and top with the rocket leaves.