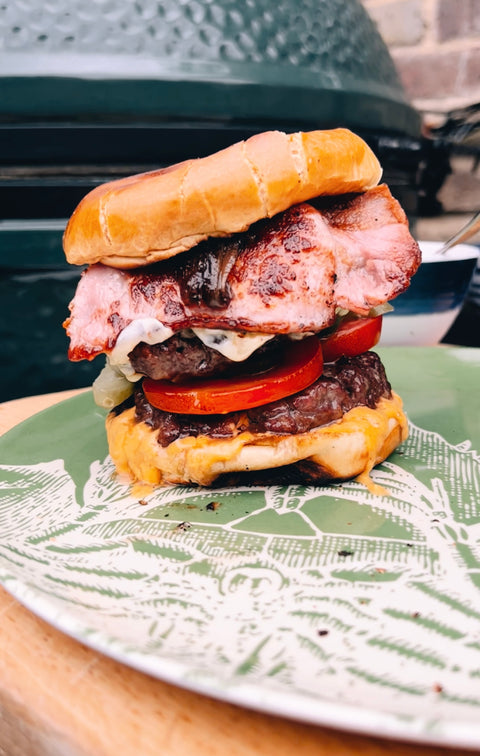 Double Stack Mighty Meaty Burger
24 Aug 2022 by Wright Brothers Team
Using our Salcombe Meat Co. Dexter beef burgers and unsmoked back bacon, you can create a mouth watering burger in the comfort of your home following our easy recipe.
Time

20

minutes

Serves

2

Difficulty

Easy
Ingredients
Pickled gherkin
Tomatoes
Onions
Mature cheese slices
Shop Ingredients
Add it to your fry up
Serves 3-4

Dexter breed beef
Serves 2
Instructions
Chop your onions and caramelise them in a pan with some oil and sugar. Put the pan on a low heat and have them cook for around 30 minutes until brown.
Once the onions have been on for about 20 minutes, start grilling the burgers and the bacon. They will need around 5 minutes on each side. You can also add the cheese slice to one of the burger patties for a minute before they are done so that it will melt.
Don't forget to add your brioche bun onto the grill for the last 15 seconds to give it that lovely colour and tasty flavour.
Once done, add burger sauce to your buns and place the burer patty with the cheese at the bottom. Then add your tomatoes and pickles. Top it with another burger patty and then add your bacon!
Enjoy!