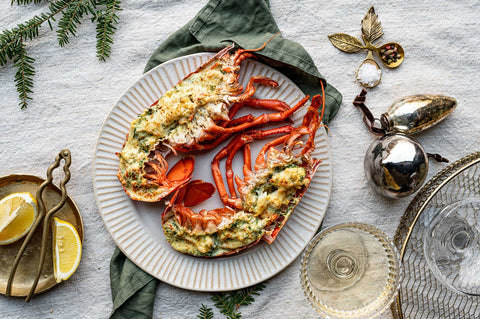 Christmas Foodhall
Indulge yourself and loved ones this festive season with our delicious Christmas fish & meat range. Our high quality collection of festive food spans everything from shellfish to smoked seafood gifts, to award winning gammon. Ideal for couples or family celebrations, our products are perfect for all your Christmas and New Year celebrations. Get your fresh Christmas fish by post delivered to your door - order today!
Shop our Christmas Gift Ideas and find the perfect gift for Seafood lovers! 
TIP: Our Christmas & New Year deliveries are now OPEN. Pre-Order your delivery NOW to avoid disappointment as our slots each year fill up fast and all close before our last order dates.
1kg of meaty and juicy Devon produced mussels
Serves 2 plus

Cured with orange, fennel, pollen & dill
Serves 1+

Ready to eat, dressed British crab
Serves 1+

No. 3 Size. Fresh, briny with a lean texture
Serves 2+

Long-cut and specially cured for us
Serves 1+

A delicious twist on this Nordic treat
Serves 1+

Delicious cold or warmed under grill, simply cut open to serve
Serves 2

Cooked and ready-to-eat chilled or warmed under the grill
Serves 1

Wow your guests with these tasty claws
Serves 2