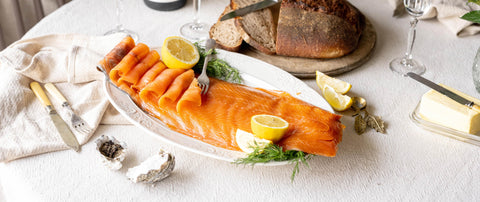 Three Mother's Day Salmon Recipes
11 Feb 2022 by Wright Brothers Team
Create the most delicious, memorable Mother's Day meal with our top salmon recipes. 
Hands up if you're counting down the days until Spring Equinox where we can finally enjoy the longer days and flowers beginning to bloom. But that's not all we have to look forward to in March, as Sunday 27 March is Mothering Sunday – a wonderful day for us to share our love and appreciation to the women in our lives.
Maybe we're a little biased, but we think the best way to celebrate is through the creation and serving of delicious seafood dishes… but not just any seafood, the beautifully vibrant salmon. A popular choice for many due to its versatility and sweet flavour - not forgetting the incredible health benefits of being a great source of protein, rich in omega-3 fatty acids and loaded with essential vitamins too! So, scroll through our top three salmon recipes from salmon fillets and whole salmon and create a wonderful Mother's Day meal for her to enjoy a memorable day.
Wright Brothers Fish Pie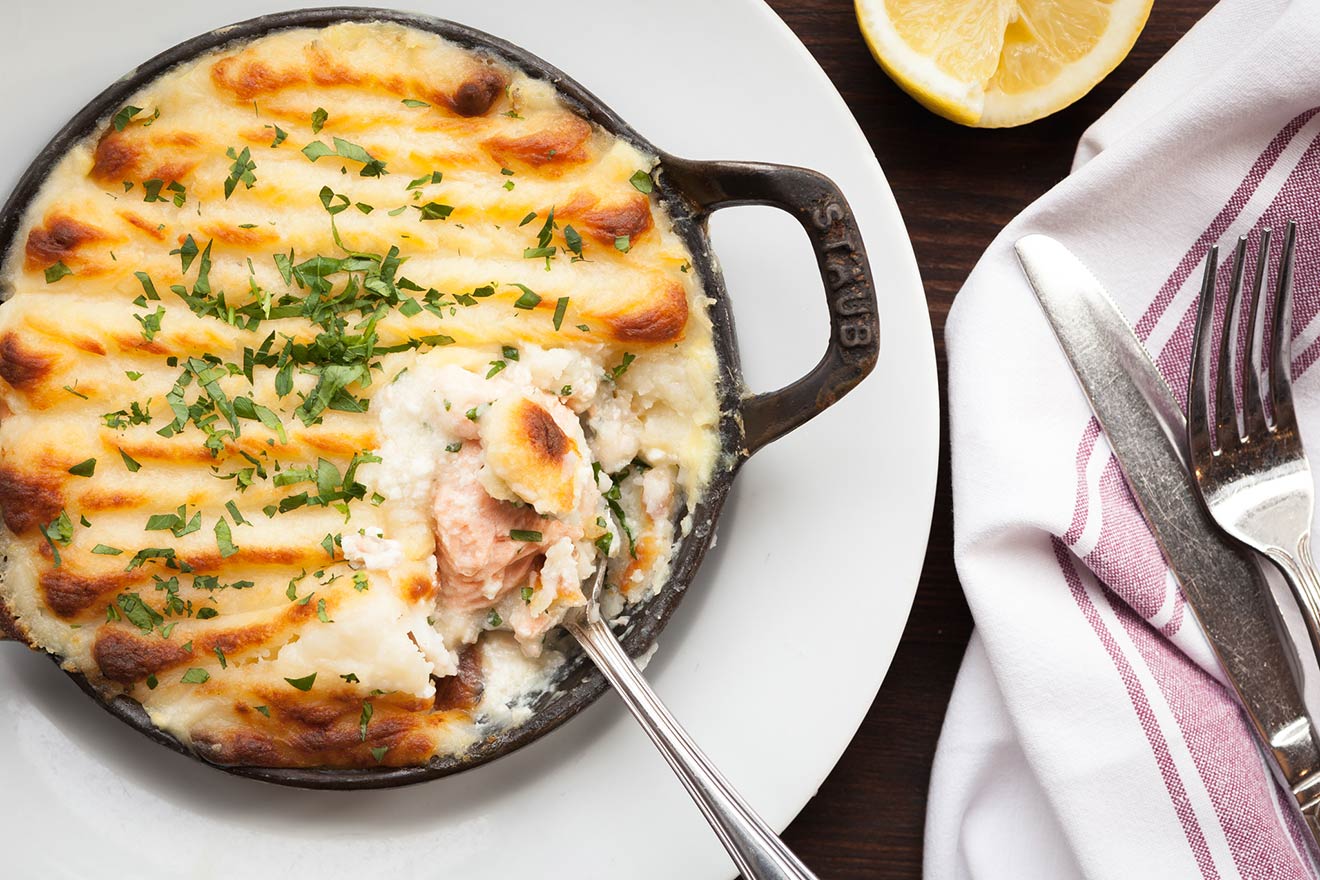 A common question when following salmon recipes is whether to remove the skin and the answer will always depend on the recipe itself. For example, our salmon fillet recipe for Pan-Fried Salmon with Honey Garlic Sauce is made with the skin on, as the method includes pan-frying the salmon which will result in crispy, delicious skin. However, if cooking our signature Wright Brothers Fish Pie, then the skin should be removed as the salmon is baked with a creamy sauce which, if left on, the skin would be soggy. So, if you want to cook a salmon dish with no skin, our iconic Fish Pie is a brilliant choice – not only is it delicious and comforting, but a delightful Mother's Day meal to enjoy together. Our recipe takes less than an hour to make and easily serves four people, plus we've made it even easier for you with our very own Wright Brothers Luxury Fish Pie Mix, which contains the finest selection of wild market fish including succulent salmon (with the skin already removed) and smoked seafood.
Pan-Fried Salmon with Asian Vegetables and Miso Broth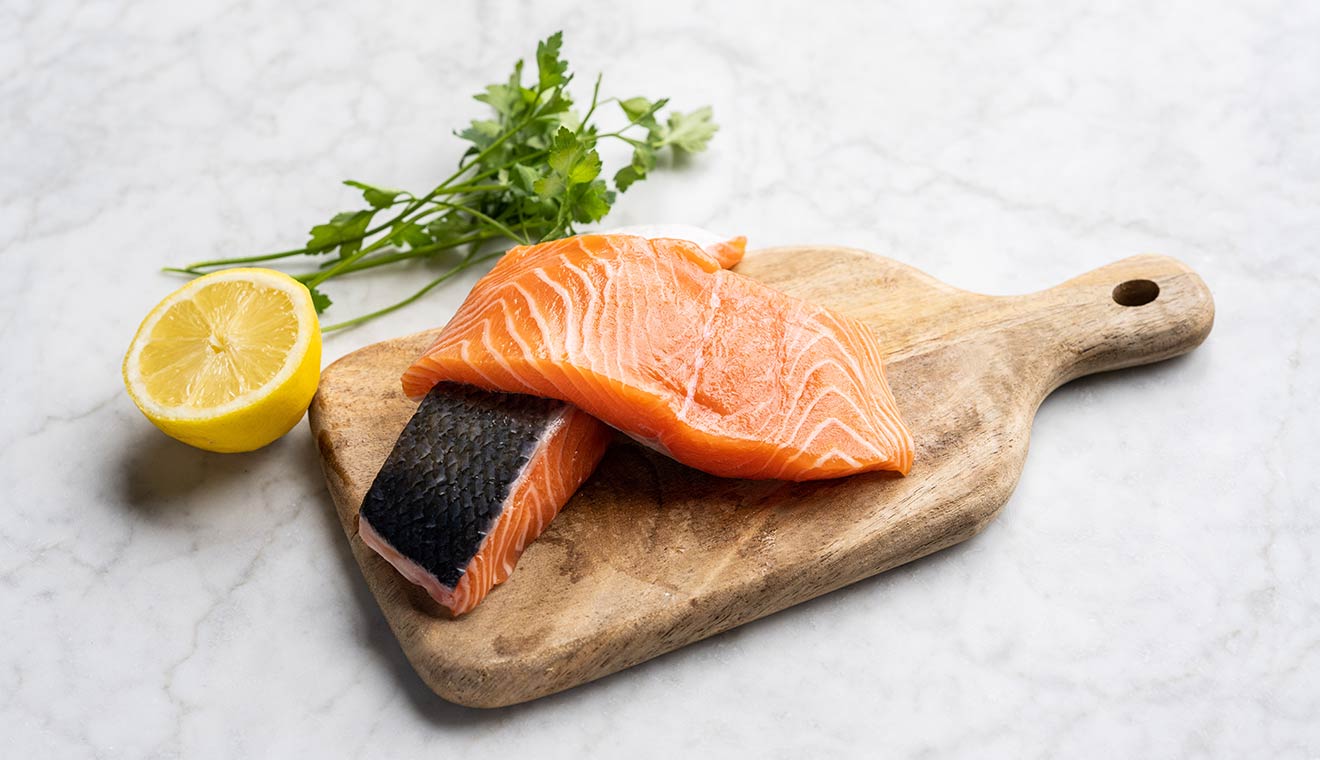 This is a great (and tasty) salmon recipe to follow when deciding how much salmon you need per person as it is simply one salmon fillet per diner. So, if you need a Mother's Day recipe for four, this is ideal for you. However, if you're cooking for more or less, you can easily adjust the ingredients accordingly and ensure you have a salmon fillet for each person. Despite only taking half an hour to create, this is a flavoursome healthy salmon recipe made with ginger, pak choi and bamboo shoots for a fresh Asian twist. Plus, this recipe has been made with our high-quality Var Salmon Fillets with the skin on for a delectable crispy finish.
Poached Salmon with Cucumber and Dill Sauce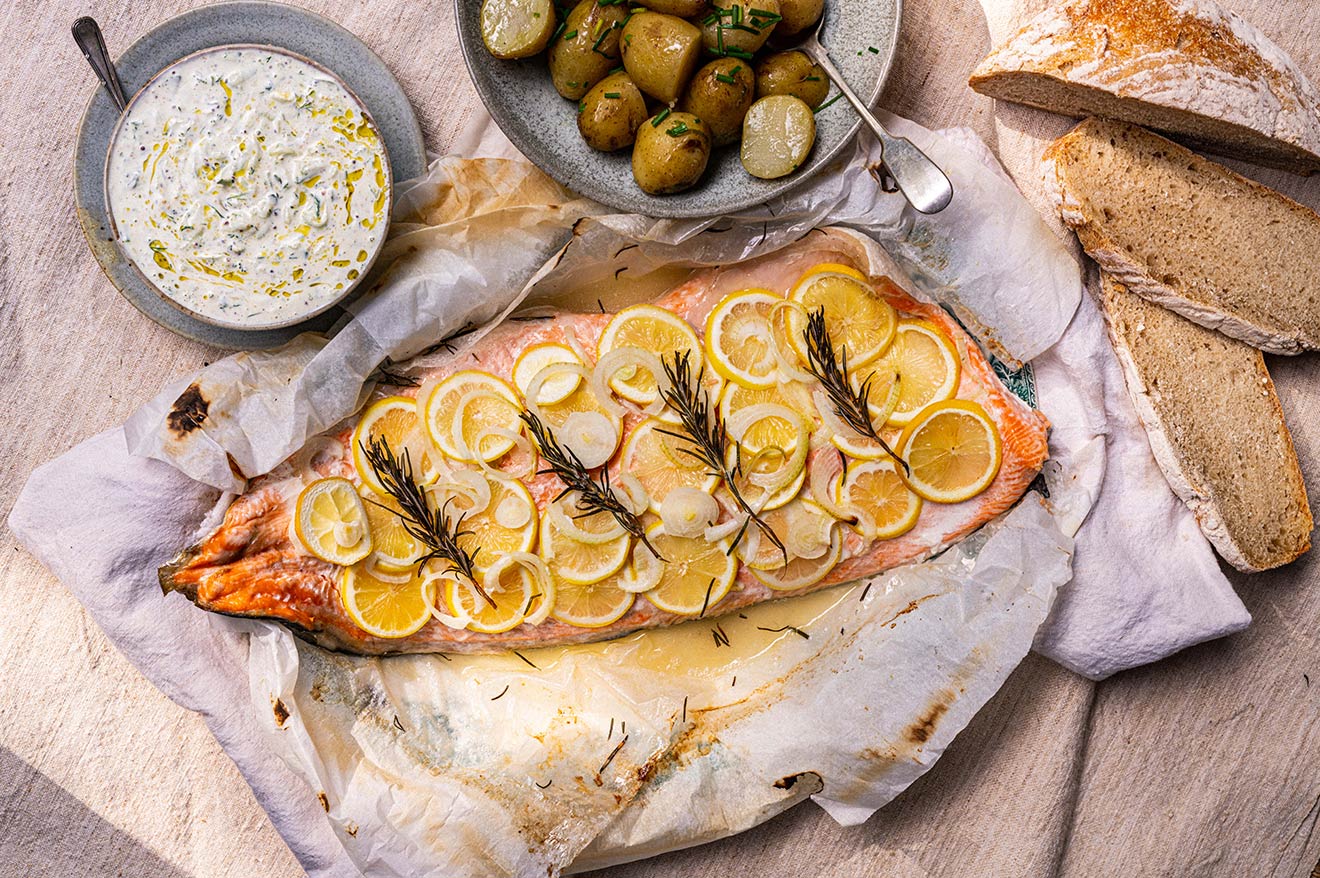 If you want to serve a showstopping centrepiece for this year's Mother's Day, then our Poached Salmon recipe is a must for you. Especially if you're serving six people, as this wholesome meal is made with either our sustainably sourced Whole Side Fillet of Var Salmon or Salmon Whole Side which comfortably serves 6 – 8 people. Follow our five simple steps and create an impressive Mother's Day meal by cooking our Whole Salmon with everyday ingredients finished with a beautiful sauce consisting of fresh Spring flavours – perfect for welcoming the beginning of a new season. Plus, this cooking method will ensure the flavours are evenly spread over the entire Whole Salmon without having to season both sides.
So, however you choose to celebrate Mother's Day this year, we hope you enjoy creating one of our delicious healthy salmon recipes, which are guaranteed to leave a lasting impression and make the day memorable for all the good reasons. Don't forget, we also have a selection of professionally prepared Salmon en Croutes with 2, 4 or 6 servings that are delivered frozen to your door with simple cooking instructions. Our oven-ready Salmon en Croute includes two layers of tender Var Salmon with a spinach centre that is delicately flavoured with lemon and tarragon butter, all encased in a stylish spiral puff pastry wrap. We've also given you the option to include our chef-prepared Tarragon Sauce that has been made to perfectly compliment the dish. This is a great option for those who want to opt for an easier cooking option and spend less time prepping and more time with the family.