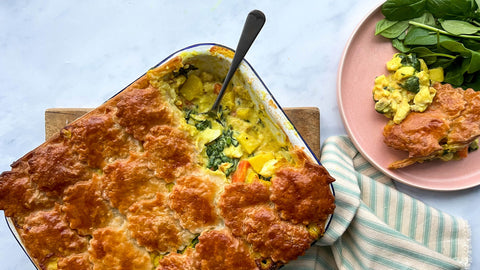 How to Create Fish Pie with a Twist by Emma Hatcher
24 Mar 2022 by Wright Brothers Team
With an easy-to-follow recipe created by Emma Hatcher
@shecanteatwhat
you can learn how to create a Fish Pie with a Twist with a velvety, golden filling spiked with Indian spices and topped with a gluten-free puff pastry shell lid.
Ingredients
2 x 280g gluten free ready rolled puff pastry sheets
500ml whole (can use lactose free) milk
30g ghee
3 spring onions, green tops only
½ a fresh red chilli, sliced and seeds removed
1 inch chunk root ginger, grated
8 fresh curry leaves
1 teaspoon ground turmeric
1 teaspoon ground cumin
1 1/2 teaspoons mustard seeds
2 large carrots, diced
2 parsnips, diced
2 tablespoons gluten free plain flour
150g coconut cream
150g fresh spinach
Squeeze of lemon juice
sea salt and freshly ground black pepper
1 free-range egg, beaten, to glaze
Prep the Pastry

Start by cutting out your pastry shell topping (if you don't have a shell shaped cutter a circular one will work just as well!). Roll out the pastry and cut out as many shapes as you can - my dish needed about 24 and my cutter was 8cm across. Also cut out 4 thin strips just wider than the rim of your pie dish, to line the edges and give the shapes something to stick to. Once cut, place the pastry back in the fridge on a tray to chill and keep any leftovers for something else.

Make the Fish Pie Filling

Preheat the oven to 200°C, fan 180°C, gas mark 6 and place a tray on the middle shelf. Pour the milk into a large saucepan, place over a medium heat and bring up to a simmer. Add the Wright Brothers Fish Pie mix to the milk and lightly poach for 5 minutes. Remove the fish using a slotted spoon and set in a bowl to one side. Turn off the heat and allow the milk to cool for 10 minutes before straining through a sieve into a jug.

Add the Flavoursome Twist

Place a large pan over a medium heat and add the ghee. When melted, add the spring onion tops, chilli, ginger, curry leaves and spices and cook for a few minutes until fragrant. Add the carrots and parsnips and cook another for 5-6 minutes, or until the veg starts to soften and caramalise. Add the flour to the veg mix and cook for a few minutes. Slowly add in the strained milk, a little at a time, stirring continuously to create a delicious white sauce. Season well. Remove from the heat, then stir through the coconut cream, spinach, fish, squeeze of lemon juice and a little more seasoning if you like, then spoon into a shallow ovenproof dish.

Cook Until Beautifully Golden

Brush the rim of your pie dish with the beaten egg and place your pastry strips on the rim of your pie dish, until it's completely covered. Brush the pastry rim with egg wash, then start overlapping your pastry shells on top, brushing each with a little egg so that the next one sticks. Continue until your pie is covered with an overlapping egg-brushed shell-scale lid. Place the pie dish on top of the hot tray in the middle of the oven and bake for 35 minutes, or until the pastry is golden, puffed up and the filling piping hot and bubbling underneath.
Shop Ingredients
Salmon and smoked fish
Serves 3 to 4