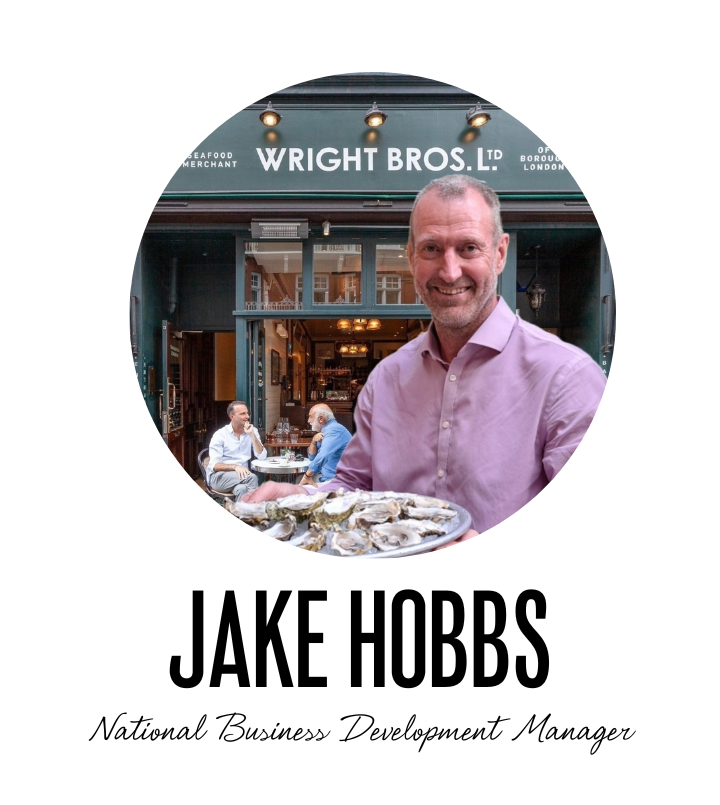 Jake Hobbs is our National Business Development Manager at Wright Brothers Wholesale. With a passion for quality, sustainability, and all things British, Jake plays a pivotal role in forging partnerships with restaurants and hotels across the country. He's an advocate for local sourcing and believes that supporting British producers not only benefits businesses but also contributes to a healthier planet.
In this article, Jake explores how local sourcing and ethical choices are transforming the culinary landscape, guided through the lens of British produce. Join us as we delve into the products and traditions that define this nation, celebrating the best of British ingredients and sustainable practices.
We are in the midst of celebrating the fabulous and diverse produce that Britain has to offer. In its 22nd year, British Food Fortnight 2023 aims to be the biggest celebration yet, as it brings together communities and organisations planning to take part up and down the country.
From diverse multi-cultural cities to quaint rural villages, you will find meticulously organised events boasting mouth-watering British menus. Bunting lined fairs and fetes with busy stalls bursting at the seams, with fresh colourful fruit and vegetables, cuts of meat, strings of sausages and wet gleaming fish. Vintage and modern food trailers serving up tasty British dishes. And vibrant stands selling cakes, homemade local and traditional pastries and other such delights. Your supermarkets will also be more involved than normal. Most, if not all of the big supermarket chains, already heavily support British animal and dairy producers, fruit and vegetable growers, and fish farmers. As a nation, we should be mightily proud of the produce we have to offer, whether it comes from land, sea or a kitchen.
When you nip to the shops to buy food or you get spruced up for a meal at your favourite restaurant, how often do you think about where your food comes from? It is something more and more of us are starting to think about. Carbon footprints. The impact on our planet. Our climate. Supporting local, and buying British is not only good for producers and manufacturers, but in turn you should reap the benefits too. Who wants to eat fruit and vegetables that have travelled halfway around the globe when you can pick up the same items from your local farm shop or grocers. I am talking about things in season of course. And when it comes to seasons, the British producers and growers know what they are doing. Why are some items cheaper in the supermarkets than other times. Because they are in season. In abundance and at their best.
I work for the wholesale side of the Wright Brothers business. I am the National Business Development Manager, and my job involves seeking out restaurants and hotels to work with. We already have a huge customer base in London looking after magnificent establishments such as Sketch, Scotts of Mayfair, and many others. As I travel around the country seeking out new business one of the things I have noticed more and more, is restaurants and hotels proudly displaying on their websites which suppliers they work with, and how many miles away that supplier is based. Cutting down on unnecessary travel to get produce they can buy locally. I fully support this ethos. As a business, it shows you are forward thinking. Aware of the impact on our environment. And in tune with what society want to see.
One such place in Manchester called Mamucium uses an acronym called SOLE. Sustainable, Organic, Local and Ethical. This pretty much represents all I have written above. Mamucium ensures these core values are reflected through their food and drink menu. Using it as a great reason to have two cocktails or two starters guilt-free, as everything they use is making a difference. I love it!
Wright Brothers at Home uses the same philosophy in their sourcing for products for the website. They recently added meat to allow for super surf and turf experiences at home, out on the BBQ or in the kitchen. The Salcombe Meat Co are Devon based and represent everything Ben and Robin (the founders of Wright Brothers) believe in when it comes to how produce finds its way onto your plate. Produce, people and place. And let's also add a healthy dollop of passion.
Wright Brothers Wholesale share the same values and beliefs. Our cockles and clams come from Dorset. Our handpicked crab comes from Cornwall and Devon. Our wild fish comes out of Brixham Fish Market. We also have access to so many incredible producers across the width and breadth of the country. Beautiful Steelhead trout from Kames in Kilmelford in Scotland. Fantastic quality farmed salmon from Wester Ross, the oldest independently operated salmon farm in Scotland. Or there are oysters of course. We offer so many varieties to our customers such as Cumbrae, Jersey, Achill, Lindisfarne and Carlingford Lough to name but a few. All British. All are very different. All stunning.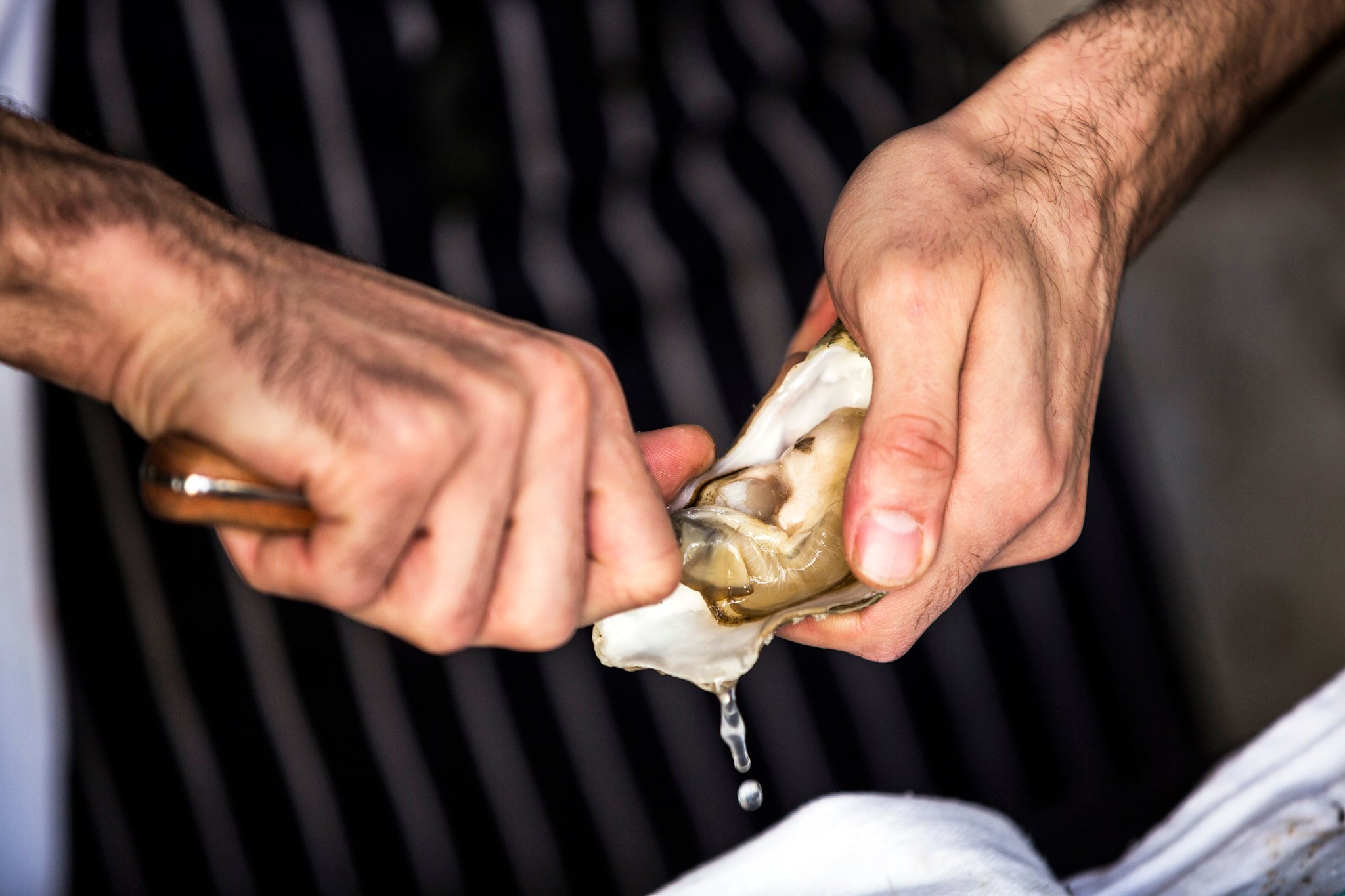 As a nation, we have several organisations in the UK to help support British farmers and the consumer. The Little Red Tractor is such an organisation. Their logo means that the food you buy has been responsibly sourced, safely produced and comes from crops and animals that have been well cared for – so it's good for you and good for British farmers. Next time you are in the supermarket have a look at the packaging and see if you can find the little red tractor.
Fish is another example of where you can look for help and guidance on packaging when making a purchase. The blue MSC label ensures you are buying a product that is sustainable. The Marine Conservation Society is about protecting our seas, and our fishermen. It has a great website too which has a very useful good fish guide tool. Here you can check on the fish you eat to see how sustainable that species is. If your fish gets a green colour, it's good to eat and means the stock numbers are very high. If you get a red colour rating, then you should avoid eating the fish and look for an alternative fish which the website gives you. It's something I use regularly at work to give suggestions to chefs, and often at home to ensure I am eating a sustainable species.
If you celebrated British Food Fortnight this year, I hope you had a wonderful experience and managed to immerse yourself in as much British produce as you possibly could. Maybe you tried a new local delicacy or travelled to a new place and ate something synonymous with that town or place. Perhaps you ate a Melton Mowbray pork pie in between shops on a mad shopping spree. Or nibbled on a Kendal mint cake as you trudged up a drizzly fell in the Lake District. Did you hungrily eat Whitby scampi after walking up and down the 99 steps? Maybe you guzzled West Country Scrumpy late into the night during a weekend jaunt to see relatives in Somerset.
Whichever way you celebrated British Food Fortnight 2023, supporting local produce has many meanings to many people. And Britain really does have the best of something for everyone. Take a big bite out of something British and enjoy.
Jake Hobbs
Follow more of my Wright Brothers journey over on LinkedIn